Our Umbrellas
Telescopic Offset
Giant Shade Umbrellas Telescopic Center Post Umbrella is one of the most important telescopic umbrella models in our collection. One main reason for their popularity is that these telescopic umbrellas are windproof. Our telescope expansion mechanism is constructed entirely from aluminum, and as a result of this design, it is robust while also being elegant. Using our rain gutters several telescoping umbrellas can be joined together easily to create a fixed covered area.
QUALITY TELESCOPIC UMBRELLAS – WINDPROOF
These telescopic umbrellas are designed to withstand wind gusts of up to 60 MPH making it ideal for particularly windy areas. The awnings are designed and constructed with 100% dyed marine grade fabric acrylic fabric. Each fiber is color soaked all over to deliver a rich, deep, fade resistant color. The fabric is woven which allows air to pass through, and does not trap heat and moisture. This design is a critical feature that eliminates mildew. As you would expect the shades are treated with a fluorocarbon finish making these water repellant and resistant. The telescopic umbrellas are stain resistant and they are extremely easy to clean. Our customers love these awnings first because of our great prices, but ultimately because of the longevity and durability.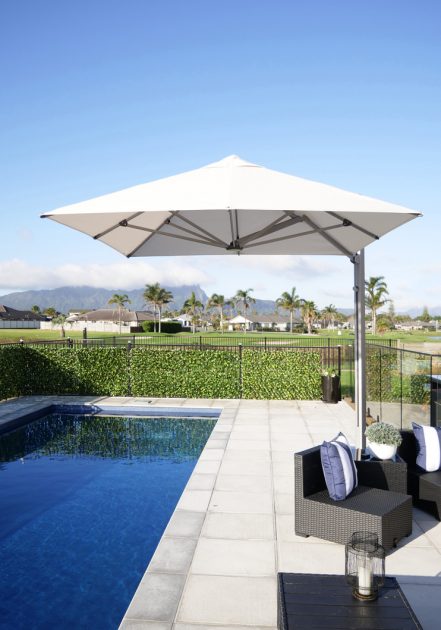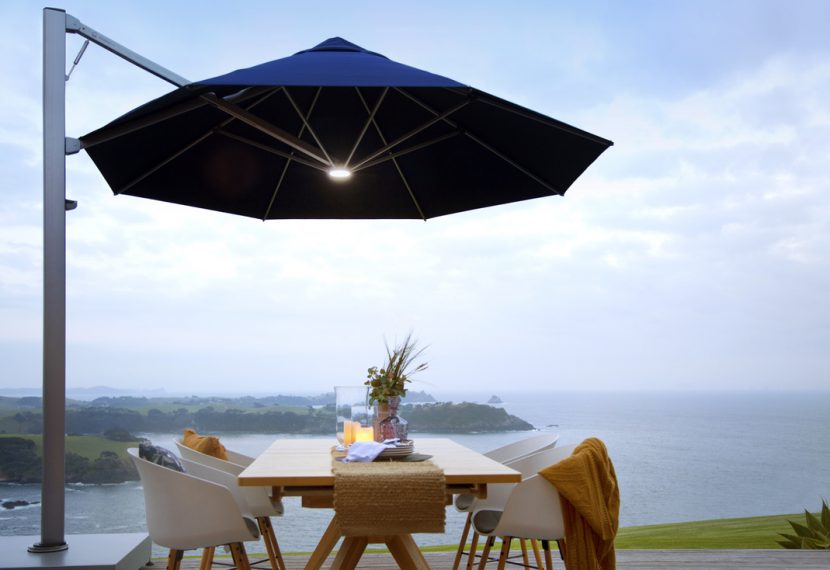 Our Umbrellas
Additional Features
Another major feature that our customers love is the fact the all our shades are made from a marine grade fabric which provides superior protection from the sun with a 95% UV rating and carry's the Skin Cancer Foundation's Seal.
Mechanics used in the finest telescopic umbrellas:
The gearbox and the spindle are contained in the center pole and can be operated by handle or using a motor.
Advantages of the telescopic umbrellas:
Opens and closed by hand
All materials are water and corrosion resistant
All parts attached by screws can be easily replaced
Mechanics include a telescopic pole which allows the umbrella to open or close over the table
Maintenance-free gearbox
Possible with lights and heating
Safely handles winds up to 60 MPH (with the proper bases)
12 reinforced aluminum ribs and telescopic opening.
The telescopic system allows umbrella opening/closing without removing the chairs and tables underneath.
Stands used in these windproof umbrellas:
Concrete base
Ground tube
Steel plate
Get in touch with Awning Stars
Questions? Contact us
More than "sell" you an awning or shade, we like to educate you in the form, function, and use of our products. We explain what the products can and can't-do to give you realistic expectations and the power to make an informed buying decision. We really do believe in the old saying that "An educated consumer is our best customer." By developing an honest relationship you can have confidence that you are buying from the right people. We always listen to your wants and needs and customize our products to the uniqueness of every person and business.
Awning Stars is ever so committed to offering the highest quality products at a fair price to give you the best value for your money.