Retractable Patio Screens In Pompano Beach
We all want to enjoy our patios, but with Florida's heat and bugs it feels like an impossible task. The moment you step outside there's humidity coating your skin in sweat as mosquitoes buzz around us wishing they could get inside too! Nobody wants their summer ruined by staying indoors, but thankfully we don't have to thanks for the high-quality exterior retractable patio screen by Awning Stars. As the leading supplier and installer of retractable patio screens we have several stunning exterior screen systems to best match your aesthetic and requirements.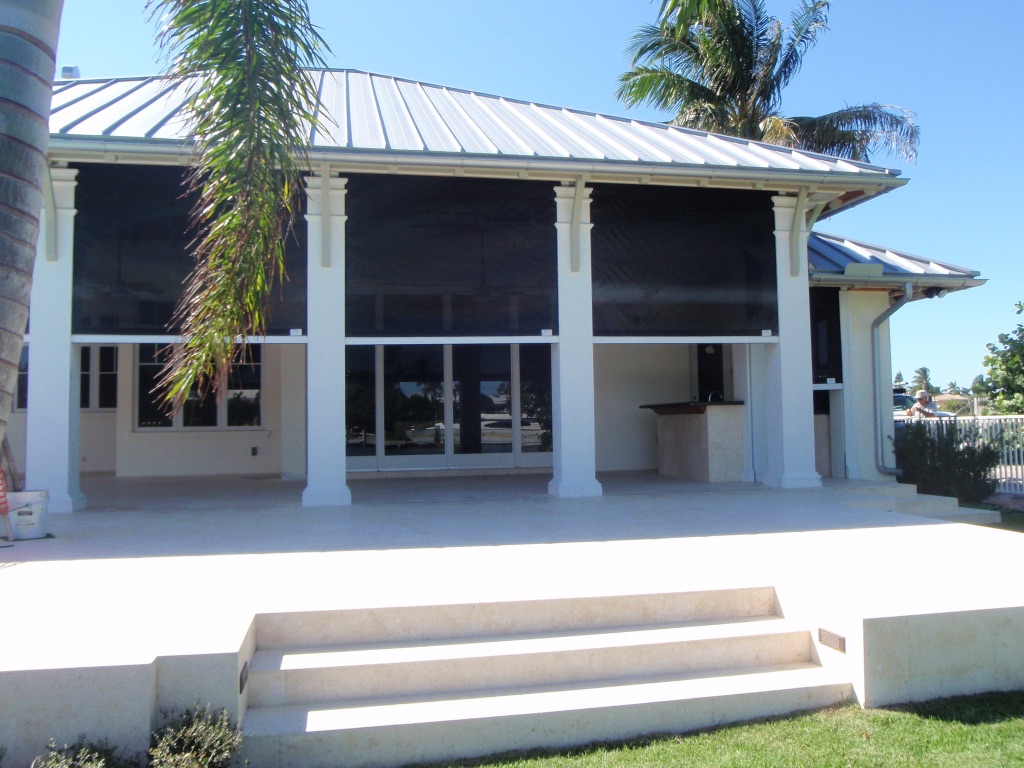 When you need to protect your patio from the elements, our retractable screens are an excellent choice. These high-quality drop down covers enclose space with professional installation and provide unrivaled shade control as well as temperature management during those patented South Florida days. Trying to protect yourself from the onslaught of bugs? Florida
No matter the situation, Awning Stars has got you covered with our line of retractable patio screens in Pompano Beach.
Where Form And Function Meet
The benefits of using a retractable patio screen in Pompano Beach are vast. Not only will you enjoy the shade and protection it provides, but its aesthetic enhancements to your home make for an incredible addition that can be seamlessly integrated into any type of housing material!
You can have a custom retractable patio screen system that is made just for you. We offer different materials and color options, so we'll match the specifications of your project to ensure an excellent product.
Your patio is an important part of your home's exterior, so it should be designed with care. Whether you have standard or arched openings to worry about, we'll make sure that our work doesn't interfere with the overall design appeal and integrate seamlessly with our edge-to-edge screens.
Different Solutions For Different Problems
Whether you want a beautiful, custom design or just need something durable and reliable to protect your home from the harsh weather conditions of Pompano Beach – Awning Stars has got it covered. Some of our most popular exterior screen options include:
Retractable Solar Patio Screens In Pompano Beach
With the help of our retractable solar patio screens, you can enjoy Florida's summer-long weather without fear. This is because they will keep your home cool and comfortable even on hot days when other people are craving an escape from excessive heat or humidity.
Keep your patio safe, shady and cool with our solar screens. Our solar patio screens drastically reduce heat gain within the space you've created for outdoor living.
Retractable Insect Patio Screens In Pompano Beach
Pests like mosquitos, flies and spiders are common in Pompano Beach. The pesky palmetto bug can also be found here which loves to make its way onto your home's walls or any other surface as it searches for food. This means doing everything it can to get inside your home. We stop them before they even have a chance.
Our insect screens are a great way to enjoy your patio or lanai without dealing with the usual onslaught of pests. Our edge-to-edge screen coverage blocks outside insects and other critters from making their way inside, all while maintaining visibility with the world so you can continue viewing what's going on out there. Keep your patio or lanai cool and refreshed with our insect screens. The breathable material allows for natural air flow, which is perfect in hot weather or when you need a break from stuffy indoors!
Retractable Storm Patio Screens In Pompano Beach
How often do you find yourself sitting outside enjoying the beautiful weather with clear blue skies above, only for a monsoon to start up just seconds later? Pockets of rain can quickly change from sunny skies and gentle drops into strong winds that leave you soaking wet. That never has to be the case again with our retractable storm patio screens in Pompano Beach.
You don't have to worry about your outdoor space being ruined during a hurricane. We offer Atlas Armor screens, which are the only material rated for the toughest of hurricanes! Our storm screens will keep you safe from any harsh weather that may come around.
Enhance Your Space Today With Awning Stars
The Awning Stars team is ready to provide you with the best retractable screens in Pompano Beach! Choose from both motorized or manual options, depending on your needs. We are proud of our high-quality products that will help elevate any patio space while protecting it against harmful UV rays and bugs alike without sacrificing style. Simply contact us today either online or give us a call at (888) 345-0033 to receive your free quote!
Service Area