Awning Stars
Louvered Roof Systems
Louvered Roof Systems can be used to cover Outdoor Kitchens, as Carports, Home extensions, and Lanais with the advantage of being able to open the roof to the sky or close the roof for protection from the sun and rain.
Louvered Roof Brochure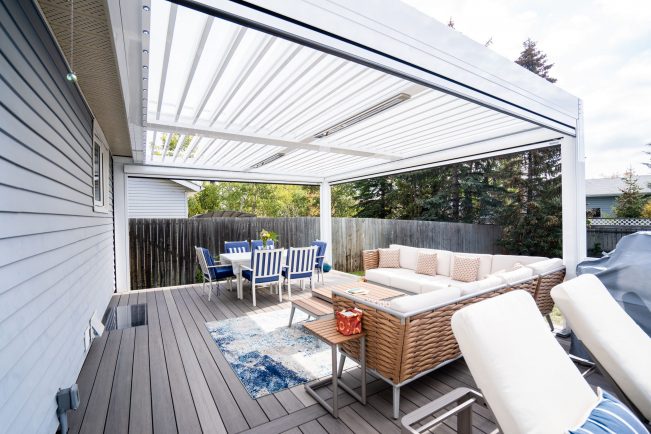 Awning Stars
Key Features
Want to get the most enjoyment from your outdoor space?
The Suncoast Built Louvered Roof system gives you the flexibility to do just that.
1. 6 standard Frame Colors and 6 standard Blade Colors (not just 2 like the competition).
2. 6"x 6" or 8″x8″ heavy-duty extruded aluminum posts which also can serve as downspouts.
3. Structural aluminum framing in 2×8, 4×8, and 2×10 with spans up to 15', 20', or 25' between posts.
4. Largest Louver Blade on the market.
5. Beautiful, Designer heavy-duty integrated aluminum gutter (For a cleaner look).
6. Great accessories such as Infratech Heater, Led Lights, Wind Sensors, and Rain Sensors.
7. Gutter screening can be used for keeping leaves from clogging gutters.
8. Highest Quality Gaposa Motors with a 5-year Warranty
8. Designed and Engineered for the harshest Florida weather.
9. High-quality powder coating for maintenance-free years of beauty.
10. Smart Home Capability with our "Smart App" – make schedules, voice recognition capability through smart home products. Integrate with your current home control system.
11. Bumper/gasket to resist leaks and give quiet operation when closing Louvers.
12. Best Warranty in the industry with 10 years on all materials, 5-year warranty on motors.
13. IP-65 (waterproof) Gaposa motor for any climate.
14. Remote-controlled and/or hardwired switch motor operation, as well as an in-home wall remote (optional).
15. Add Motorized Screens or Shades for a total outdoor space.
Up-to-date Modern Engineering and Design – Sunshine when it's cool, Shade when it's hot, and Dry when it's raining.