Our Umbrellas
Commercial Quad Offset
The American Quad Offset Umbrella by The Shade Experts USA is out largest heavy duty offset umbrella and deservedly the most distinctive heavy duty cantilever umbrella around. It is made up of four umbrellas, having one central pole. It simply maximizes your available covered shade umbrella area and is strictly a commercial cantilever umbrella.
Our large cantilever patio umbrellas are available in 20x20ft, 20'x26' and 26'x26' dimensions which gives about 400 to 676 square feet area for good usage. The central post is made out of steel coated powder with spokes constructed out of heavy duty aluminum which makes the umbrella ideal for even the harshest conditions. The entire structure of heavy duty cantilever umbrella comprises of interchangeable parts, providing extreme durability. Powder coating on this product is available in Black, Brown, White and Grey color variants or you can specify which one suit you best. Our umbrellas are handmade in Europe by artisans who put details into great consideration.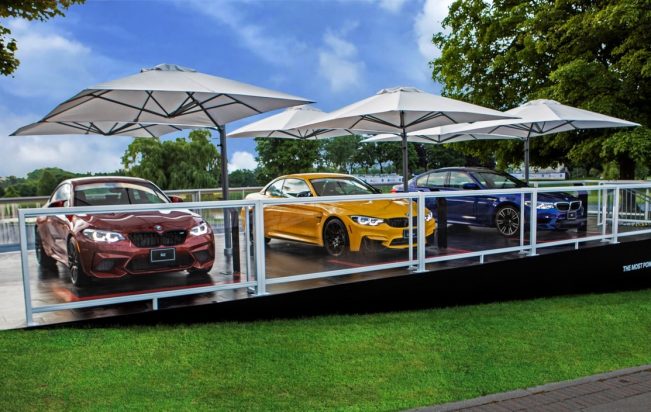 Our Umbrellas
Commecial/Residential Offset Umbrellas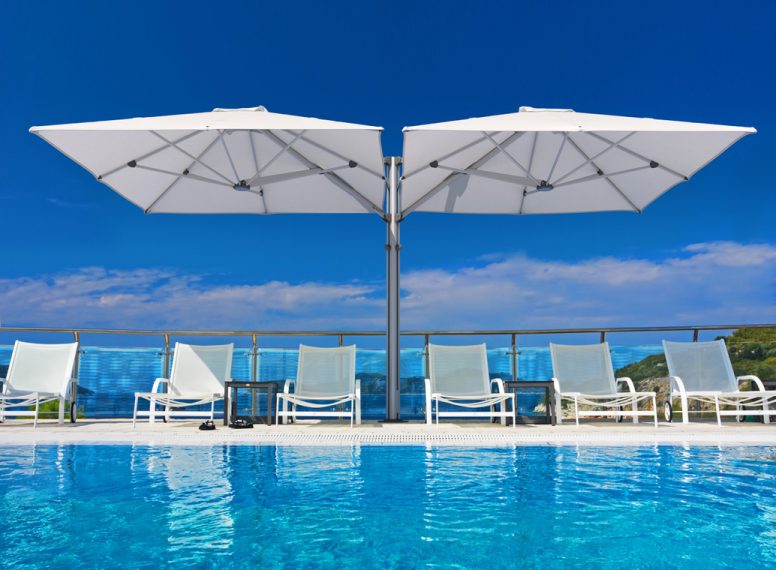 Our Umbrellas
Additional Features
Other finishing touches are available with this umbrella. This includes stainless steel cranks and cables, wind vents and high wind stabilizer bars for stability in heavy winds. The heavy duty offset umbrella has canopy that is made from a 100% Solution-dyed Sunbrella acrylic fabric. The fiber used for the fabric is woven extremely great for breathability as it doesn't trap heat or store mildew and moisture. Also, the fabric is water-resistant and water-repellent plus, it provides protection from sunlight's ultra violet rays – it has a 95% UV rating and Skin Cancer Foundation Seal. Each fabric has fade-resistant colors and every color is well saturated all through the umbrella. Rain gutters is an accessory you can add as an attachment to your umbrella.
You have the choice to pick a steel frame base in order to use with paving stones or steel bracket. The large cantilever patio umbrellas can be either placed on the ground or be anchored to an all-aluminum replaceable rib.
Opening and closing is easy with the integrated marine grade stainless steel crank and cable. Complete valance and a 360 degree rotating post will allow for the canopy to be easily moved out of the way when not needed. A 10 year warranty on the acrylic fabric and a 2 year warranty on the structure come as a benefit of buying our product.
Get in touch with Awning Stars
Questions? Contact us
More than "sell" you an awning or shade, we like to educate you in the form, function, and use of our products. We explain what the products can and can't-do to give you realistic expectations and the power to make an informed buying decision. We really do believe in the old saying that "An educated consumer is our best customer." By developing an honest relationship you can have confidence that you are buying from the right people. We always listen to your wants and needs and customize our products to the uniqueness of every person and business.
Awning Stars is ever so committed to offering the highest quality products at a fair price to give you the best value for your money.