Our Umbrellas
Commercial Single Offset
The Liberty Single outdoor offset umbrella is an ideal piece for anyone that wants a long lasting quality shade. The posts and side arms are 100% made of powder coated steel with spokes constructed out of heavy duty aluminum to withstand harsh conditions. The structure as a whole is made up of replaceable parts which provide durability you can't get anywhere else. Powder coatings are available White, Brown, Black, Grey or as stated by you in a special order. This outdoor offset umbrella is crafted specially by hand in Europe.
The canopies can be ordered with rain gutters when dealing with an outdoor space – this is optional. In addition, there are other features that make our canopies exceptional; those which include wind vents for air passage, well integrated stabilizers against severe wind threats, stainless steel cranks and cables. The entirely solution-dyed Sunbrella acrylic fabric is well woven for breathability which does not allow the canopy to trap heat, attract mildew and moisture. Each fiber on the woven material is color saturated from inside out to give a rich and fade-resistant appearance. Furthermore, this umbrella has high water resistance and repellency as it is treated with a fluorocarbon finish. Stains cannot give you any problem because it is stain resistant and also very easy to clean if there is need. Health-wise, the fabric used to make this canopy carries the Skin Cancer Foundation Seal with 95% UV rating; this adds to its durability and longevity attributes.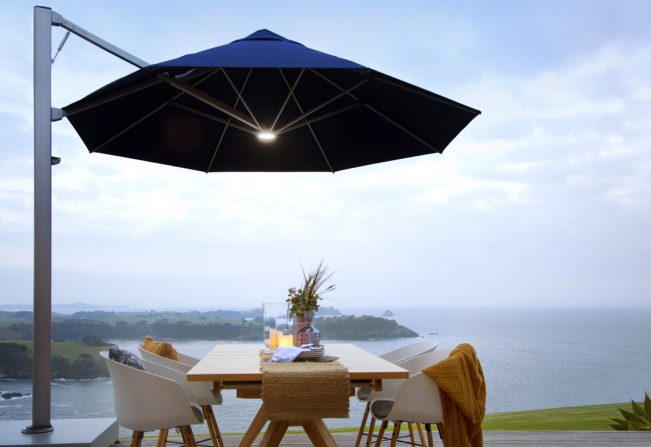 Our Umbrellas
Commecial/Residential Offset Umbrellas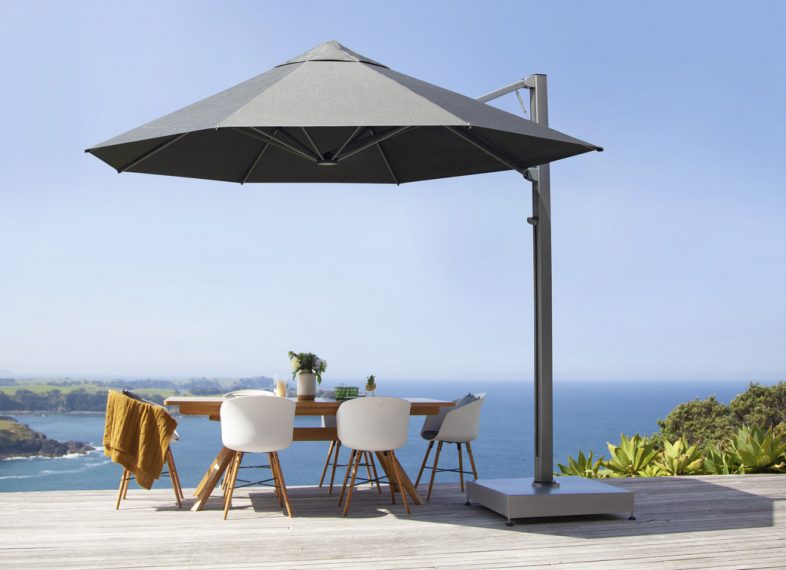 Also Available
Optional Features
We also offer several standard features on our line of patio offset umbrellas which includes square offset patio umbrella. All hardware components are made of stainless steel. It becomes your choice whether to use a steel frame with paving stones or a steel bracket which can be anchored or placed on directly the ground. Featuring an all-aluminum frame with ribs that can be easily replaced; our canopies boasts of a marine grade stainless steel crank and cables that allow users to open and close them easily. Full valance and a 360-degree rotating post makes moving the canopy when not in use a breeze. A horizontal safety steel pin is right there to ensure everything is standing quite alright. On their structure, every buyer gets a 1 year warranty on structure and a 10 year warranty on the acrylic fabric.
Our strikingly prominent commercial umbrellas are designed with the notion to perform great functions as well as beat fashion – one of the most popular products we have is the square offset patio umbrella. Please give us a call today to speak with an expert on how we can craft a great space for your venue or business.
• Stainless steel construction
• Side enclosures
• Hook attachment for rain gutter system
• Multi-vent canopy
• Lighting and Heating
• Custom shapes and sizes for all models
Get in touch with Awning Stars
Questions? Contact us
More than "sell" you an awning or shade, we like to educate you in the form, function, and use of our products. We explain what the products can and can't-do to give you realistic expectations and the power to make an informed buying decision. We really do believe in the old saying that "An educated consumer is our best customer." By developing an honest relationship you can have confidence that you are buying from the right people. We always listen to your wants and needs and customize our products to the uniqueness of every person and business.
Awning Stars is ever so committed to offering the highest quality products at a fair price to give you the best value for your money.