Our Umbrellas
Commercial Double Offset
The Freedom double offset umbrellas give twice as much shade needed with a single post only. Our double canopy side post however is the best for long spaces; they are available in sizes 10-20 and 13-26, providing shade for 200-338 square feet area. Both the post and side arm are made with power coated steel with heavy duty aluminum spokes, making it ready to face even the harshest conditions. We are known for durability hence, an entire structure of umbrella that comprises of easily replaceable parts. The powder coatings are available in Brown, Black, Grey, and White or can be custom ordered using the color(s) you prefer. Our double patio umbrella is made by hand in Europe by artisans who are simply great at what they do.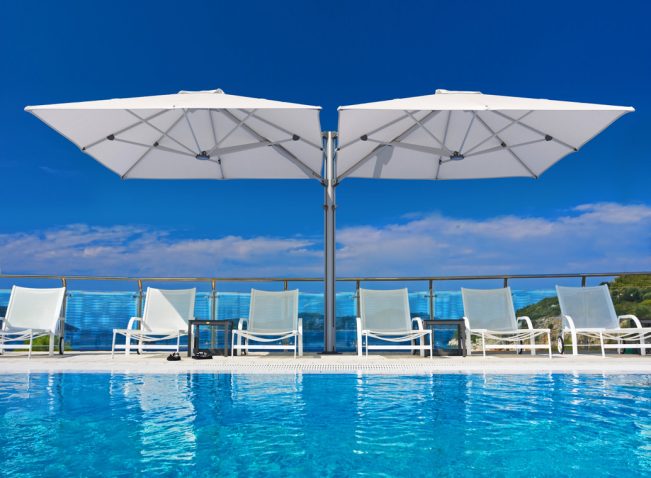 Our Umbrellas
Highest Quality Offset Umbrellas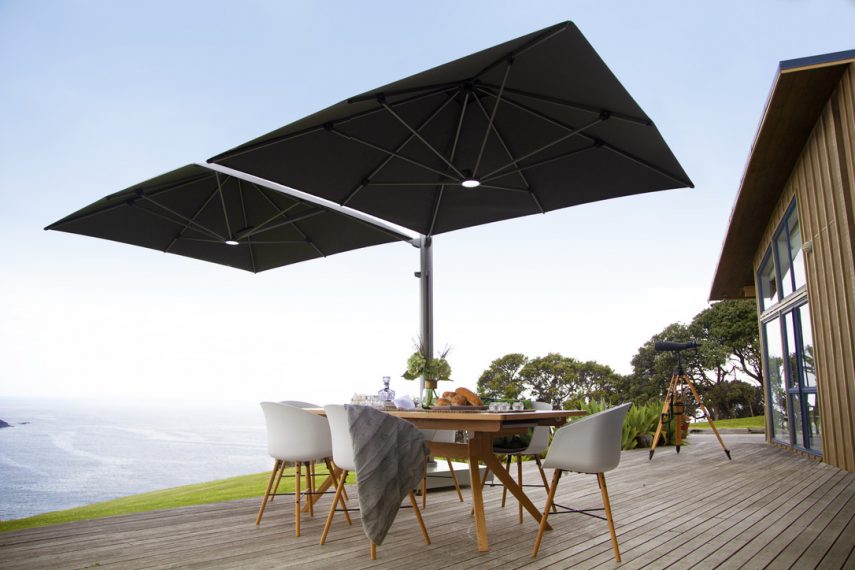 Also Available
Optional Features
Rain gutters for useable outdoor space (optional) – The umbrellas have its own accessories for commercial use with other finishing touches such as stainless steel cranks and cables, ventilation in the canopy for good air flow and powerful wind stabilizer bars to enable stability in heavier winds. With the canopies having a solution-dyed Sunbrella acrylic fabric, each fiber spots a well saturated color on the inside as well as on the outside. Sunbrella fabric has a UV rating of 95%, which protects the skin from ultra-violet rays. This, in addition to water durability, longevity and water resistance makes our canopies the best anywhere. They also don't trap heat, are fade resistant and very easy to clean.
Standard Feature every Patio Umbrella – Every hardware component on a patio umbrella is made of stainless steel. You can either choose to use a steel bracket which will be anchored to or placed on the ground or use a steel frame base with paving stones. Available also is an all-aluminum frame with interchangeable ribs. The double patio umbrella comes in a marine grade stainless steel crank and cable which makes for easy opening and closing. A 360 degree rotating post with full valance allows for easy movement of the canopy when not in use. For safety, there is a horizontal steel pin in place. All canopies come with a 2 year warranty on the structure and a 10 year warranty on the acrylic fabric.
• Patented multi-vent canopy
• Side enclosures
• Hook attachment for rain gutter system
• Multi-vent canopy
• Lighting and Heating
• Custom shapes and sizes for all models
Get in touch with Awning Stars
Questions? Contact us
More than "sell" you an awning or shade, we like to educate you in the form, function, and use of our products. We explain what the products can and can't-do to give you realistic expectations and the power to make an informed buying decision. We really do believe in the old saying that "An educated consumer is our best customer." By developing an honest relationship you can have confidence that you are buying from the right people. We always listen to your wants and needs and customize our products to the uniqueness of every person and business.
Awning Stars is ever so committed to offering the highest quality products at a fair price to give you the best value for your money.