Retractable Patio Screens In Delray Beach
The moment you step outside, the heat and humidity hits you right in the face. You're covered in sweat, bug bites and before long the rain clouds will begin rolling in—so how are you supposed to enjoy your exterior patio space? Thankfully, Awning Stars retractable patio screens in Delray Beach are designed to help you do just that. 
Our retractable patio screens were designed to enclose your patio space with high-quality drop down screens that cover your space from edge to edge. Professionally installed, our retractable patio screens provide unrivaled shade and temperature control, defense against insects, and storm protection when heavy winds and rains start up.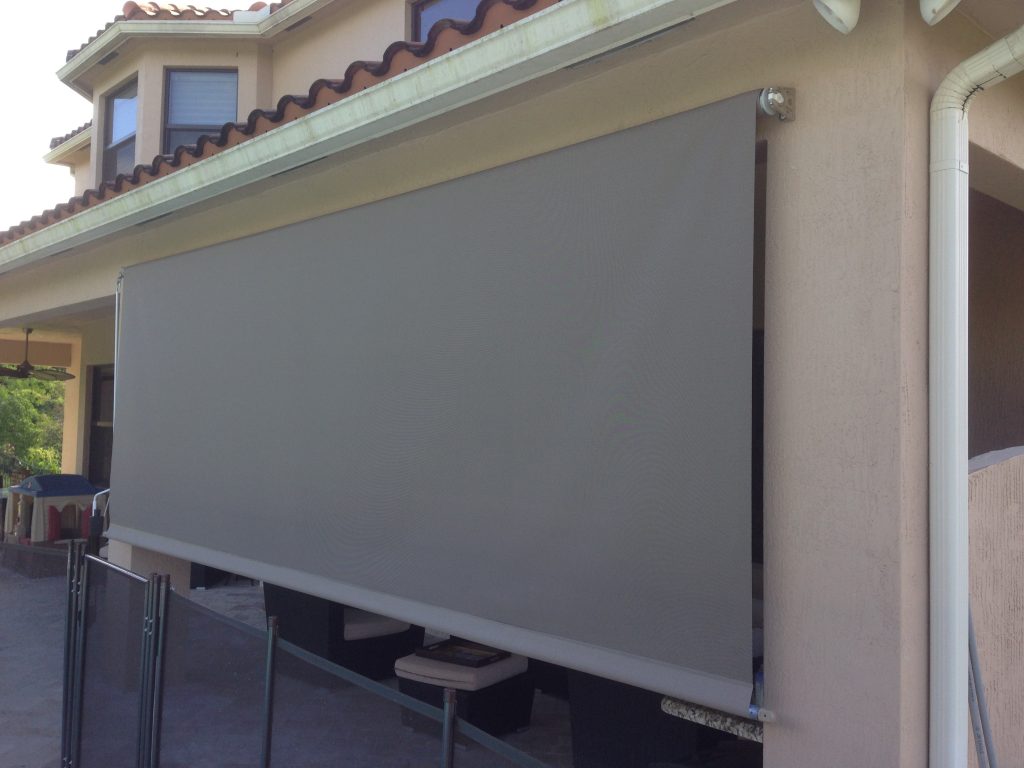 With our retractable patio screens, you'll be able to enclose your patio or lanai with high-quality drop down shades that cover the whole space from edge-to-edge. Our professionally installed retractable screens provide unrivaled shade and temperature control as well as defense against insects such as mosquitoes or other creepy crawlies! Our hurricane screens ensure safety and comfort in case of heavy winds or monsoon rains. If you're looking for the best retractable awning solutions in Delray Beach, Awning Stars has you covered. 
Where Form And Function Meet
With our retractable patios screens in Delray Beach, you can enjoy the protection and aesthetic enhancements of an outdoor living space while staying protected from harmful UV rays. We can install them on any type of surface, from wood to brick or stucco concrete—even natural stones!
We make it our business to find the perfect retractable patio screen system for you. No matter what material or color option suits your style best, we'll match up with all of their features so that they integrate seamlessly into both design elements and overall living space within any given home patio or lanai. 
Different Solutions For Different Problems
When you need your outdoor space to be relaxing and inviting, Awning Stars is here for all of our customers' needs. We offer multiple exterior screen options so that no matter what type or size patio, we'll make it work for your Delray Beach, FL home.From small patios on up through large commercial spaces, we've got just the right retractable patio screens. Some of solutions include:
Retractable Solar Patio Screens In Delray Beach
Florida's summer-long weather is a major attraction for most, but the heat can catch people by surprise. Unlike other parts of America that experience crisp autumn leaves and cold winters with snowfall on New Year's Day, Florida swelters through months filled with only scorching sun radiating from an unbearably humid atmosphere all year long without any break in between!  Our retractable solar patio screens will help you create the perfect getaway spot. They'll keep your shaded and protect it from UV rays, all while reducing heat gain in one easy motion!
Retractable Insect Patio Screens In Delray Beach
There are many pests in Delray Beach that tend to roam around and you may find them coming into your home. These pesky creatures include mosquitos, flies, spiders or even palmetto bugs! Awning Stars' retractable insect patio screens stop bugs right in their tracks. You're able to finally sit outside and enjoy your patio or lanai without being eaten alive. 
Awning Stars' insect screens are a perfect addition to any home. They allow you peace and quiet without sacrificing visibility, all while blocking outside pests from entering your patio or lanai with an edge-to-edge design that maintains natural light coming in through the window!
Retractable Storm Patio Screens In Delray Beach
The weather in Delray Beach can change quickly and without warning. You might be sitting outside enjoying a beautiful day only for the sky to start raining just moments later, which is why we offer our retractable storm patio screens so you don't have to run inside at the first sign of rain! With our hurricane screens, you can enjoy your patio space without getting drenched during the most powerful storms. Plus they're rated for major protection against wind speeds in excess of 83 mph!We offer Atlas Armor storm windows and doors which will keep out even higher forces winds and storm pressure so that nothing disrupts what's important at home.
Enhance Your Space Today With Awning Stars
Come home to Awning Stars and our high-quality retractable patio screens! We offer both motorized and manual set ups well, so you can choose what's best for your lifestyle. No matter what you're looking for, we've got the solution that will work just right with your Delray Beach home or business. Simply contact us today either online or give us a call at (888) 345-0033 to receive your free quote!
Service Area