Retractable Patio Screens In Boynton Beach
The struggle is real when it comes to enjoying your patio space. You spend all year long fighting heat, bugs and rapidly changing weather that just makes things too difficult for you outside-even if there's a beautiful day perfect enough where nobody wants to stay inside! Thankfully, we here at Awning Stars have the solution. As the Boynton Beach leading supplier and installer of retractable patio screens, we offer the widest selection of high-quality solar patio screens, storm patio screens, and insect patio screens for your home.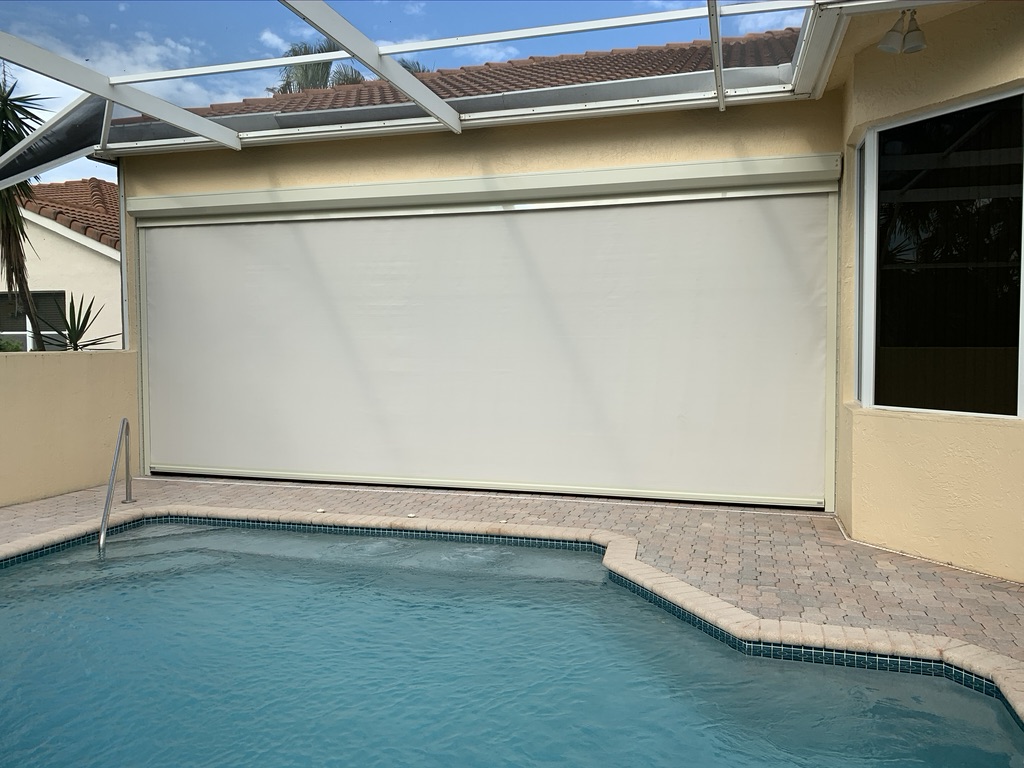 With our retractable patio screens, you can enclose your backyard space with high-quality drop down screen that covers the entire length and width. The professionally installed product provides unrivaled shade control as well protection against insects and heavy rains/winds which makes it perfect for hosting BBQs or relaxing on those hot summer days. You deserve to enjoy your outdoor space, so why not do it with style? With Awning Stars' retractable patio screens you can have that beautiful exterior relaxation again.
Where Form And Function Meet
Our screens provide the perfect amount of shade and protection, while adding an incredible aesthetic enhancement to your home. With many materials available for installation, our retractable patio screen systems will integrate flawlessly into any housing material. From wood  to concrete and everything in between, you'll be able to create something that's truly one-of-a-kind!
Our team of experts will help you find the perfect retractable patio screen system for your home. With a variety of options and materials available, we guarantee that there is something to fit any need. We can install a range of retractable patio covers that will not only look great but also improve your home's curb appeal.
Different Solutions For Different Problems
When you need a Boynton Beach retractable patio screen, there's no better place than Awning Stars. We have multiple exterior options for our customers' unique needs and tastes so they can find what works best! These include:
Retractable Solar Patio Screens In Boynton Beach
The sun shines brightly over Florida, but it's a heat that cannot be subdued by any amount of water or air conditioning. The humidity in this state makes for unbearable conditions and can lead to people being forced indoors where they feel relief from their sweaty ordeal outside after just minutes.
You can have a comfortable, shaded patio without sacrificing the view. Our retractable solar screens will help protect your space from heat gain and UV rays so you'll enjoy year-round use!
Retractable Insect Patio Screens In Boynton Beach
Boynton Beach is a perfect spot for those who love the beach and natural beauty. Unfortunately, this also means that pesky critters like bugs, frogs, and snakes can sometimes find their way into your home.The Awning Stars insect patio screens are a great way to enjoy your outdoor space without being eaten alive by pesky mosquitoes, flies and other bugs. You can now sit outside in peace knowing that these retractable screens will stop any would-be pests from getting into the house. You won't have to worry about bugs getting in when you install our screens. They're edge-to-edge, completely blocking outside insects from making their way inside and maintaining visibility with the world still visible on both sides. Plus they breathe so your home stays cool all day long while breathing naturally thanks to those South Florida breezes that flow through it every moment of everyday.
Retractable Storm Patio Screens In Boynton Beach
Boynton Beach is a haven for those who want to experience beautiful weather and enjoy outdoor life. But it's not always perfect, like when you're sitting outside enjoying the sun only seconds after having seen lightning in the distance; then suddenly there's pouring Rain drops everywhere! Luckily our retractable storm patio screens will protect your home from inclement storms so that family members or guests can stay comfortable inside without worrying about getting wet. When you need protection from the elements, nothing beats our hurricane screens. Our material is rated to withstand winds in excess of 100 mph! And because they also provide your home with a major shield during seasonal storms we're sure that won't be a problem ever again. 
Enhance Your Space Today With Awning Stars
Your Boynton Beach home deserves the best retractable patio screens around! Awning Stars is proud to provide premium quality products for our valued customers. We have a wide variety of screens to suit your needs. You can get either motorized patio screens or manual patio screens, depending on your preference. Simply contact us today either online or give us a call at (888) 345-0033 to receive your free quote!
Service Area