Retractable Patio Screens In Fort Lauderdale
You've been dying to enjoy your patio space to the fullest, but Florida's heat, bugs, and rapidly changing weather, it just feels like an impossible task. The moment you step outside, you're met with humidity that has you covered in sweat and an army of mosquitos buzzing around. Nobody wants to be trapped inside all year, and thankfully you don't have to be. Awning Stars is proud to be the leading supplier and installer of retractable patio screens in Fort Lauderdale.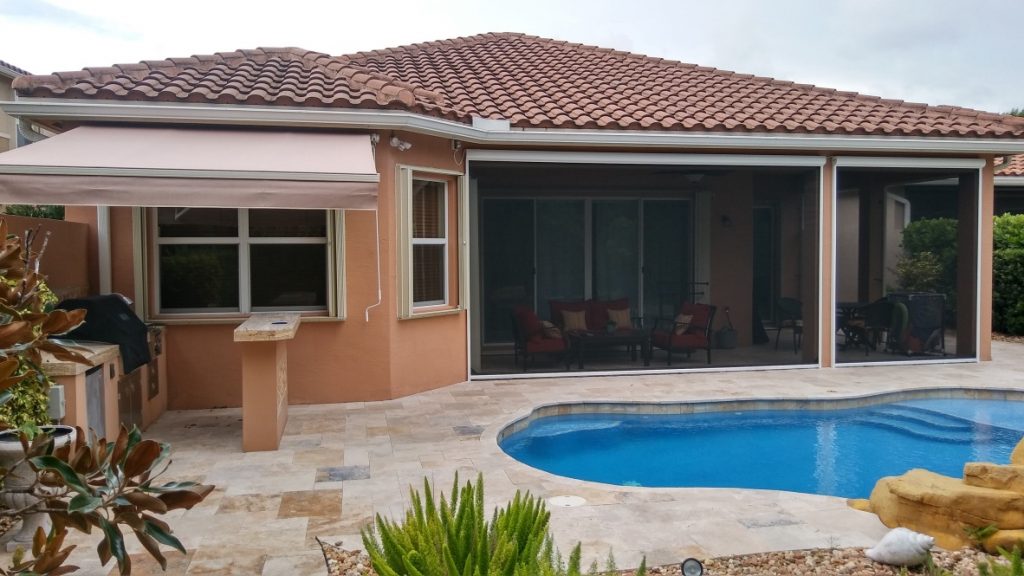 Our retractable patio screens were designed to enclose your patio space with high-quality drop down screens that cover your space from edge to edge. Professionally installed, our retractable patio screens provide unrivaled shade and temperature control, defense against insects, and storm protection when heavy winds and rains start up. No matter your situation, Awning Stars' retractable patio screens are here to help you enjoy your exterior space yet again.
Where Form And Function Meet
Our retractable patios screens in Fort Lauderdale not only provide tremendous shade and protection, but offer incredible aesthetic enhancements to your home. Retractable screens are able to be effortlessly integrated into a variety of housing materials, from wood, to brick, stucco, concrete, and natural stones as well.
We match the specifications of your project to ensure you receive exactly what you're looking for. With a variety of screen materials and color options available at your fingertips, you'll find a retractable patio screen system that seamlessly flows with your home. Whether your patio has standard or arched openings, we're confident in our ability to maintain your home's design without detracting from its overall appeal.
Different Solutions For Different Problems
Here at Awning Stars, we know that Fort Lauderdale citizens expect different things out of their retractable patio screens in Fort Lauderdale, which is why we're proud to offer multiple screen exterior options to cater to your needs best. These include:
Retractable Solar Patio Screens In Fort Lauderdale
While Florida's summer-long weather is a major attraction for most, the heat can catch people by surprise. Unlike other parts of the country, Florida's heat comes from an unbearing humidity that can really put a damper on your day. It leads to people retreating inside in fear of sweating after a few seconds. That doesn't have to be the case with our retractable solar patio screens. Our solar patio screens drastically reduce heat gain within your patio, keep your patio shaded and protected from unseen UV rays.
Retractable Insect Patio Screens In Fort Lauderdale
Fort Lauderdale is within close proximity to the beach and the Florida Everglades, making it the ideal for a variety of critters. Unfortunately, that also means they tend to make their way towards your home. This can become a nuisance as you're overwhelmed by pests such as mosquitos, flies, spiders, and the dreaded palmetto bug. Awning Stars' retractable insect patio screens stop bugs right in their tracks. You're able to finally sit outside and enjoy your patio or lanai without being eaten alive. Our insect screens are edge to edge, completely blocking outside insects from making their way inside, all while maintaining visibility with the outside world so you can continue to enjoy your view. Our insect screens breathe, allowing natural air and that South Florida breeze to flow in and keep you cool.
Retractable Storm Patio Screens In Fort Lauderdale
Much like South Florida's incessant heat, it also experiences storms that seemingly turn on and off at a moment's notice. You could be sitting outside enjoying the beautiful weather with clear blue skies above, only for a monsoon to start up just seconds later. Thankfully, you don't have to run inside at the first sign of a raindrop with our retractable storm patio screens in Fort Lauderdale. We offer Atlas Armor hurricane screens, the only screen material rated for hurricane force winds. You're able to enjoy your patio space without getting drenched. An additional plus of our storm screens is that they're also able to offer your home major protection during hurricane season as well!
Enhance Your Space Today With Awning Stars
If you're ready to elevate your patio with retractable patio screens, contact Awning Stars today! We're proud to offer the highest-quality retractable patio screens for Fort Lauderdale homeowners. We also offer both motorized patio screens and manual patio screens depending on your needs. Simply contact us today either online or give us a call at (888) 345-0033 to receive your free quote!
Service Area