Screen Company Near Me In Boynton Beach
What would you say if we could change the way your outdoor space looks and feels? With a new screen system, it's possible! If sitting out on your patio or exterior space with friends or family is something you've always dreamed of but can't seem to enjoy without ever getting rained on, attacked by a swarm of bugs, or excessively sweating under the hot South Florida sun, then it's time to upgrade you home with a new custom screen system.
You can search for "screen company near me" online and find hundreds of companies in Boynton Beach. While there may be a multitude of exterior screen companies out on the market, none of them come close to the level of high quality customer service and screen solutions. For over 40 years, the Awning Stars team has worked together to provide our customers with an unparalleled service from the moment they contact us till the job is 100% complete—and we're eager to help you, too! We've worked on both residential screen systems and custom commercial projects as no project is too big or small! Our goal is provide you with stunning screens in Boynton Beach
As the leading screen company in Boynton Beach, we understand that you have your own aesthetic tastes and preferences. That's why we offer a multitude of different products, all with their own colors and materials to match exactly what you're looking for! If you have a shade problem, Awning Stars is here to solve it.
Boynton Beach Screen Products
Solar Screens
One of the main reasons we hear from people looking for a "screen company near me in Boynton Beach" is because they desperate to enjoy their patio space or balcony, but can't because of Florida's blistering heat. One of major benefits of living in South Florida is for that unmatched temperate climate, with blue skies and an ocean breeze every day of the year—but many homeowners may elect to stay inside to avoid passing out under the drastic heat. If you're eager to enjoy your space to the fullest, then you need solar screens.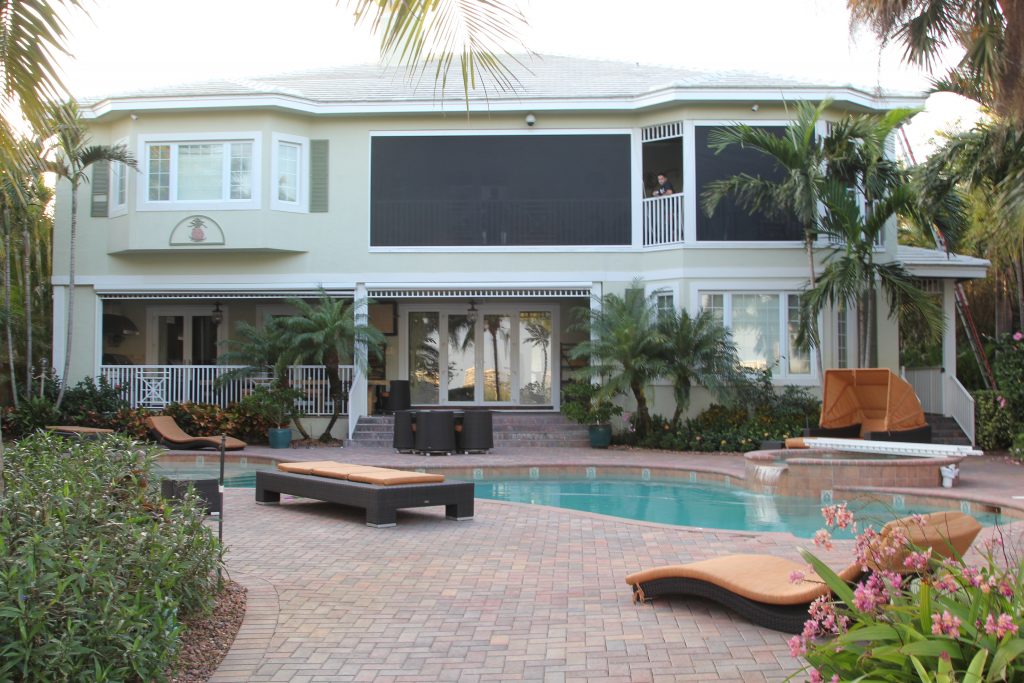 Our custom solar screens in Boynton Beach are unmatched and unrivaled, with screen sizes offering 25′ widths and 16′ drops to cover any area you may have. In addition, we offer the following fabric retention systems to perfectly match your needs. These include:
Freefall (no cables or tracks)
Cables
Rails
Captured Edge
With our Boynton Beach screen system, you can enjoy a comfortable environment without worrying about the harmful rays from outdoor elements. We provide quality products and installation services that are sure to leave your customers satisfied!
Whether for residential or commercial spaces we install solar screens in both homes as well businesses—the results will be great no matter what the space may be, as this product offers protection against UV rays while still allowing some light through so things don't get too dark inside during sunny days/evening hours. In addition, Awning Stars solar screens provide the following benefits:
Damaging UV rays ruining furniture
Reduced energy bill
As much natural lighting as you want/don't want
Enjoy the view without worrying about the sweltering heat
Boynton Beach Insect Screens
While living in South Florida comes with a multitude of benefits, there's definitely some aspects that detract from it—mainly the bugs. As we're close to the Florida Everglades, several bug species are attracted to the swampy, temperate climate of South Florida, leading to invasions of mosquitos, palmetto bugs, and several other critters. This can make going outside a nuisance, rather than an enjoyable experience. In steps Awning Star's Boynton Beach insect screens!
Our insect screens were designed to protect homeowners and businesses alike from the onslaught of bugs from making their way onto your patio and into your home. Instead, our screens defend your home, allowing you to maximize your space without having to swat away bugs every 30 seconds.
Boynton Beach Hurricane Screens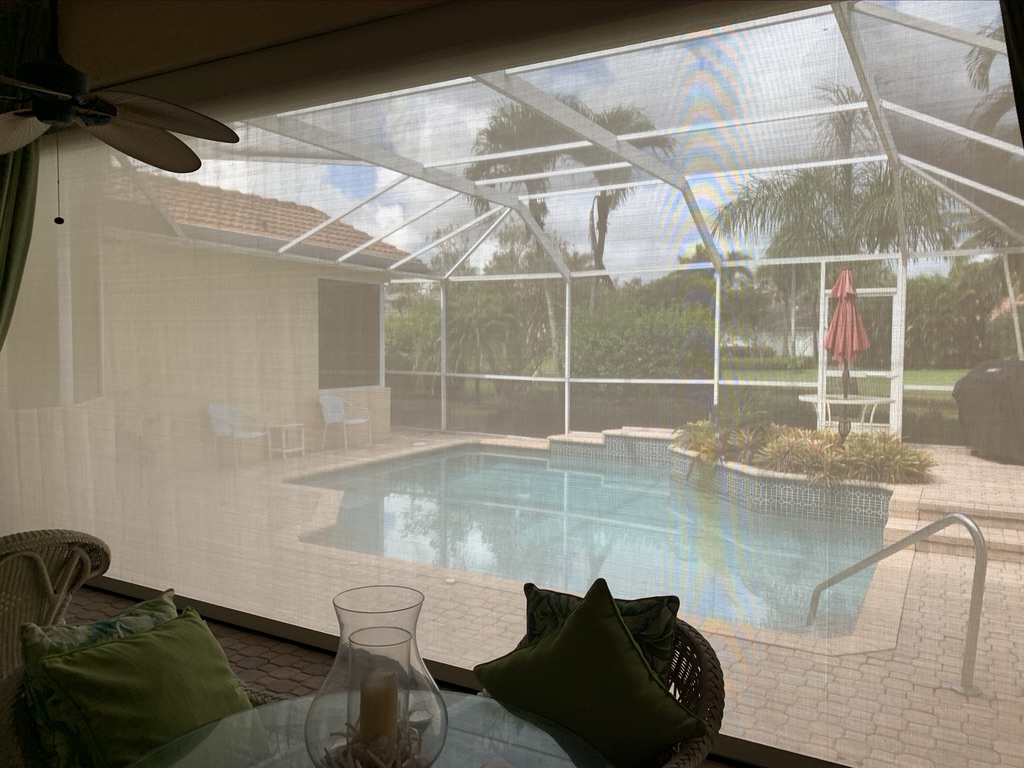 Whether you've lived here for decades or just moved down, you're likely familiar with the danger of Hurricane Season. From June 1st all the way to November 30th, Boynton Beach citizens must prepare their homes for the potential onslaught of tropical storms and hurricanes alike, or run the risk of suffering significant damage caused by high storm pressure or thrown debris. While traditionally we've had to elect for methods such as wood panels or aluminum shutters, you now have access to our hurricane screens. As the premier dealer of Atlas Armor hurricane screens in Boynton Beach, we have immediate access to the only hurricane fabric system approved for hurricane protection in the High Velocity-Hurricane Zone, or HVHZ. The HVHZ is the strictest code in the United States (NOA #21-0512.04 – FBC FL #38706.1), and Awning Stars is proud to provide you with superior hurricane protection for your home.
Additional Shade Products
You can't go wrong with our Boynton Beach screen options or any of the other wealth that Awning Stars offers. In addition to our custom screen systems, our awnings and patio covers are designed to allow you to enjoy your home to its fullest.
High Quality Awning & Patio Cover Systems In Boynton Beach
Looking for a high-quality custom awning system in Boynton Beach? Awning Stars has you covered—literally! We take the time to understand exactly what you're looking for so we can guarantee you a product that not only allows you to enjoy your space for years to come, but one you're proud to have installed in your home. Our awning cover systems provide you with the ability to enjoy your patio or lanai without succumbing to the heat or rain.
In addition, we offer several different awning fabric options to maximize aesthetic possibilities without losing out on the functional benefits of each one.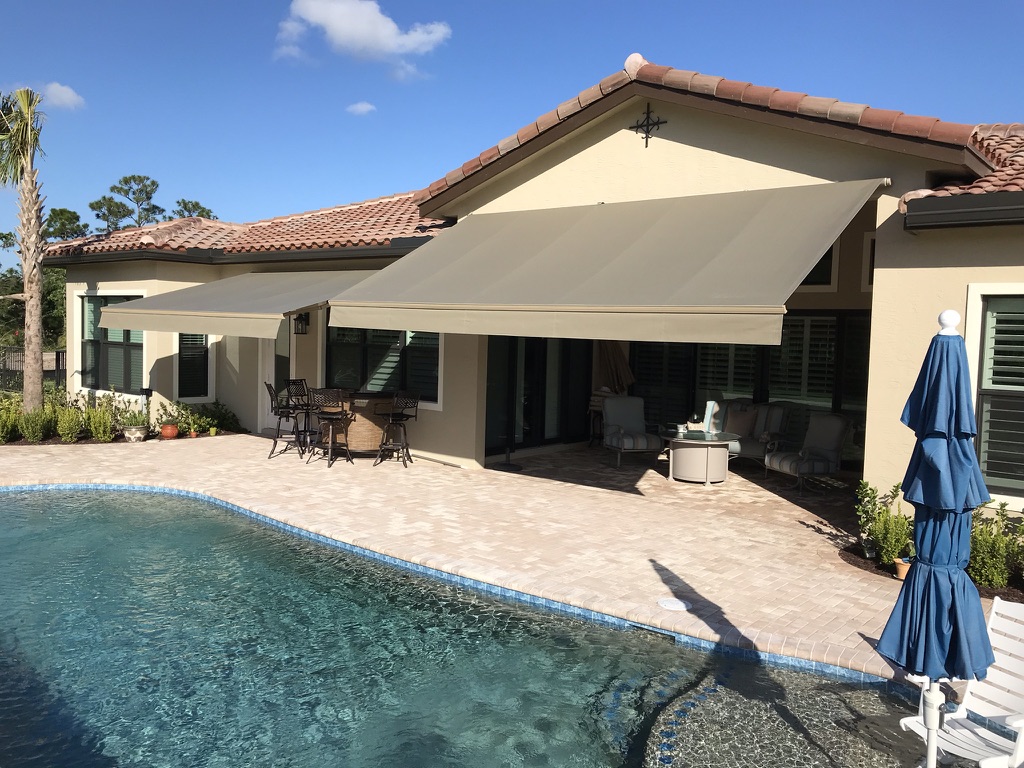 Today, we're proud to offer world-class awning materials for you to choose from for your home. These include:
Sunbrella® Awning Fabrics
Sunbrella® awning fabrics are 100% acrylic, which means not only do they look amazing but their performance also sets them apart. The Skin Cancer Foundation given it the Seal of Recommendation for its ability to filtering out harmful rays from the sun and offer essential protection you won't find anywhere else! An industry leader for over 50 years, Sunbrella® awning fabrics were designed to help you enjoy the exterior of your home to the fullest. Learn more about Sunbrella awning fabrics here!
Sunesta Awning Fabrics
Who doesn't want to enjoy their patio or lanai? Well, now you can enjoy it no matter what Mother Nature throws at us thanks to Sunesta products! Sunesta's Sattler and Tempotest awning fabrics are made with tough construction that will withstand anything that comes its way! Pick your favorite color from their vast selection of patterns or stripes for an exterior makeover on any home improvement project. Learn more about Sunesta products here!
Firesist Awning Fabrics
FIRESIST® is the newest advancement in flame retardant technology that provides an extra layer of protection for your home or business. Engineered to withstand harsh weather conditions, FIRESIST® awning fabrics maximize both their water repellency and sunlight resistance so you can feel safe no matter what.
So, Why Awning Stars?
Born from a partnership in 1985, Awning Stars has grown based on its reputation of not only providing our customers with high quality custom screens in Boynton Beach, but by providing them with customer service that can't be beat. From our very first phone call till the first day of you and your family enjoying your new screens or patio covers, we're with you every step of the way. You can count on the Awning Stars team to not only provide you with an unbelievable screen system, but people you can trust. To learn more about our Boynton Beach screen systems and exterior shade products, contact us today online or give us a call at (888) 345-0033!
Resources
Area We Service