Screen Company Near Me In West Palm Beach
Wouldn't it feel great to enjoy your outdoor space without any pesky bugs ruining the experience? Or without unbearably sweating within a matter of minutes? Or if you could step outside even when that patented Florida shower gets going? If you answered yes to any of these, then it's time to take your home or business to the next level with a brand new  exterior screen system!
Searching for a "screen screen company near me in West Palm Beach" will turn up dozens of companies all competing to offer their products, but make no mistake—nobody can none of them can carry themselves to the same standard of quality, care, and customer service that Awning Stars has. Born from a partnership made nearly 40 years ago, Awning Stars has dedicated itself to not only providing you with cutting-edge high-quality screen and shade products, but unrivaled customer service every step of the way. No project is too big or too small—we're dedicated to providing you and your home with stunning screens and exterior shade systems in West Palm Beach.
If you're looking for a custom screen system to solve your shading problems, look no further than Awning Stars. We offer an extensive variety of products that will meet any need and exceed all expectations!
West Palm Beach Screen Products
Solar Screens
Awning Stars is your go-to company for high quality screen repair in West Palm Beach. When you are looking to install solar screens to protect yourself from the hot Florida sun all year round—look no further than solar screens!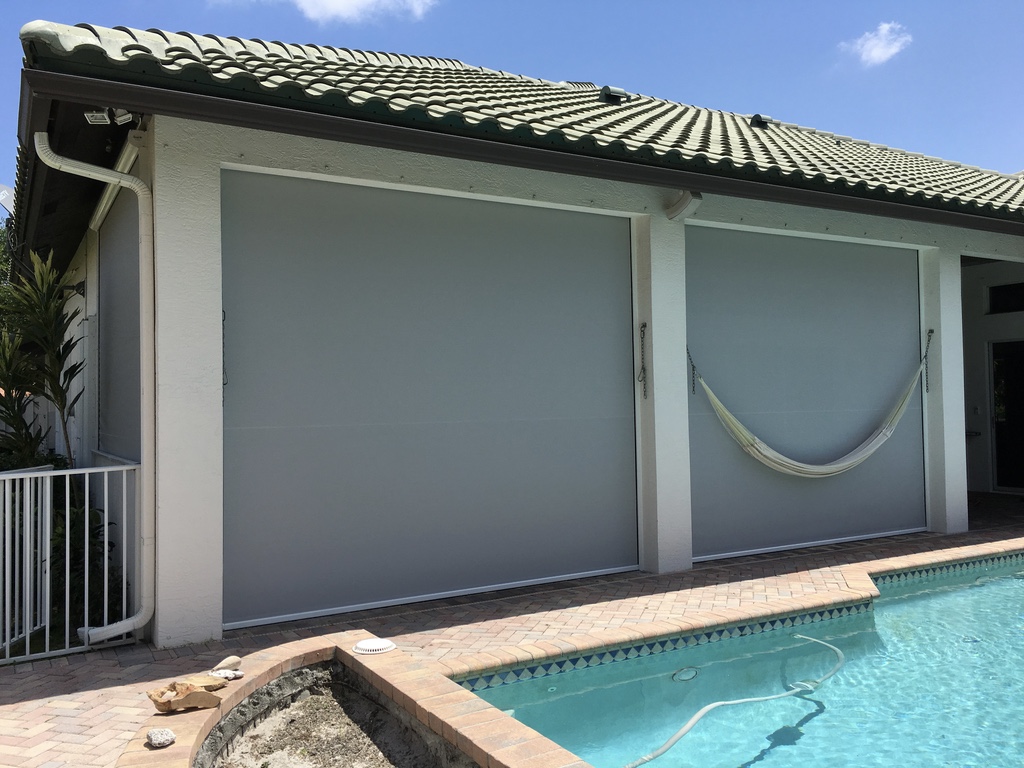 If you're looking for custom solar screens in West Palm Beach, look no further than Awning Stars. With our wide range of sizes and drop distances available we can provide the perfect coverage area to meet your needs! We also offer a multitude of fabric retention systems for you to choose from! These include:
Freefall (no cables or tracks)
Cables
Rails
Captured Edge
Whether for your home or a large commercial space, the Awning Stars team is more than prepared to expertly install your new West Palm Beach screen system. With our solar screens in your West Palm Beach house or business, you'll never have to worry about:
Damaging UV rays ruining furniture
Reduced energy bill
As much natural lighting as you want/don't want
Enjoy the view without worrying about the sweltering heat
West Palm Beach Insect Screens
The bugs in West Palm Beach can be a real annoyance. They buzz around you, they crawl into your home and it's almost impossible to keep them out using traditional methods of insect control like pesticides, so what can you do? Thankfully, Awning Stars retractable insect screens are ideal for homeowners eager to enjoy their outdoor space, but don't want to have to deal with mosquitos, love bugs, and the dastardly cockroaches. With a myriad of screen materials available for you to choose from, you can get back to enjoying your exterior space without fear of bugs running rampant.
West Palm Beach Hurricane Screens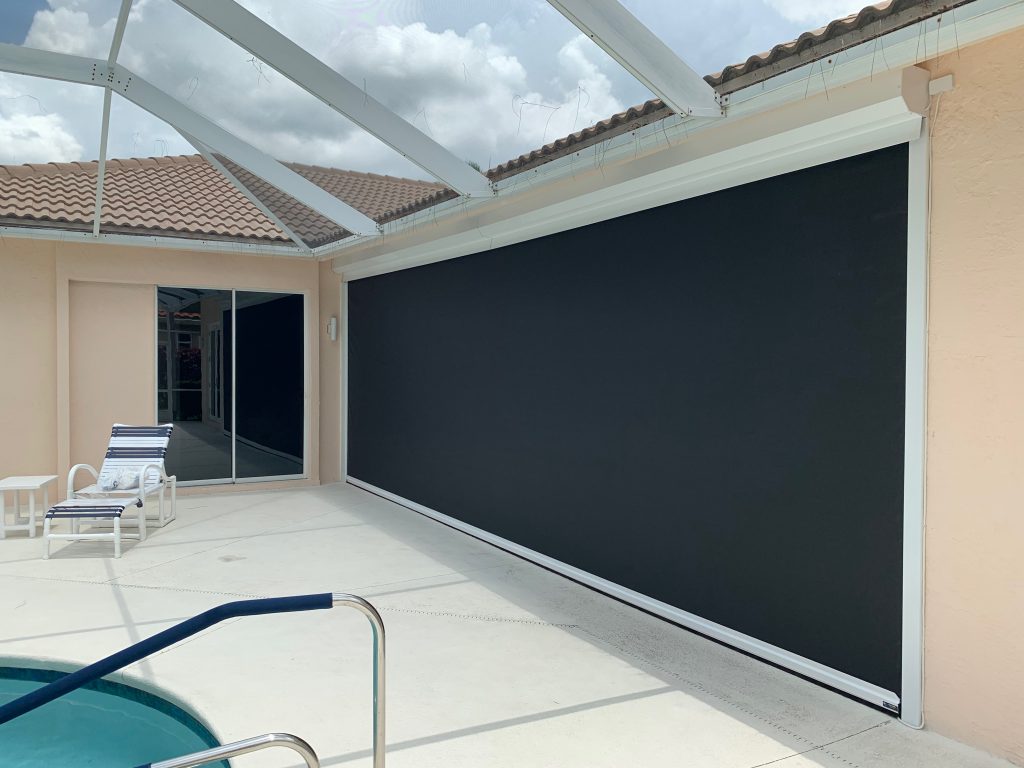 West Palm Beach residents have a responsibility to protect their homes from coming storm damage each Hurricane Season . The first step in this process is knowing when hurricane season starts and ends (July-November), as well as what types of storms can impact our area during those months. From the tropical depression to the absolutely devastating category five hurricane, you always have to be on guard during Hurricane Season.
Made right here in South Florida, Atlas Armor's hurricane screens are the only fabric system available that can provide defense against high-velocity storms. The company has approvals for their products ensuring that they're the only fabric system available that has passed the High Velocity-Hurricane Zone tests (NOA #21-0512.04 – FBC FL #38706.1), and Awning Stars is the premier installer of Atlas Armor products. Enjoy superior hurricane protection for your doors, windows, and lanai without detracting from the overall appearance of your home.
Additional Shade Products
In addition to our West Palm Beach screen options we have readily available, Awning Stars offers a plethora of additional shade systems and solutions for your home or business. Our awnings and patio covers provide you and your family with a wealth of benefits all designed to help you enjoy your home to the fullest.
High Quality Awning & Patio Cover Systems In West Palm Beach
Awnings Stars offers high-quality custom awning systems for your home in West Palm Beach. From the moment you contact us, we get to work understanding what's best suited just right and map out your space so that our product serves as an excellent addition which will last for years without fail!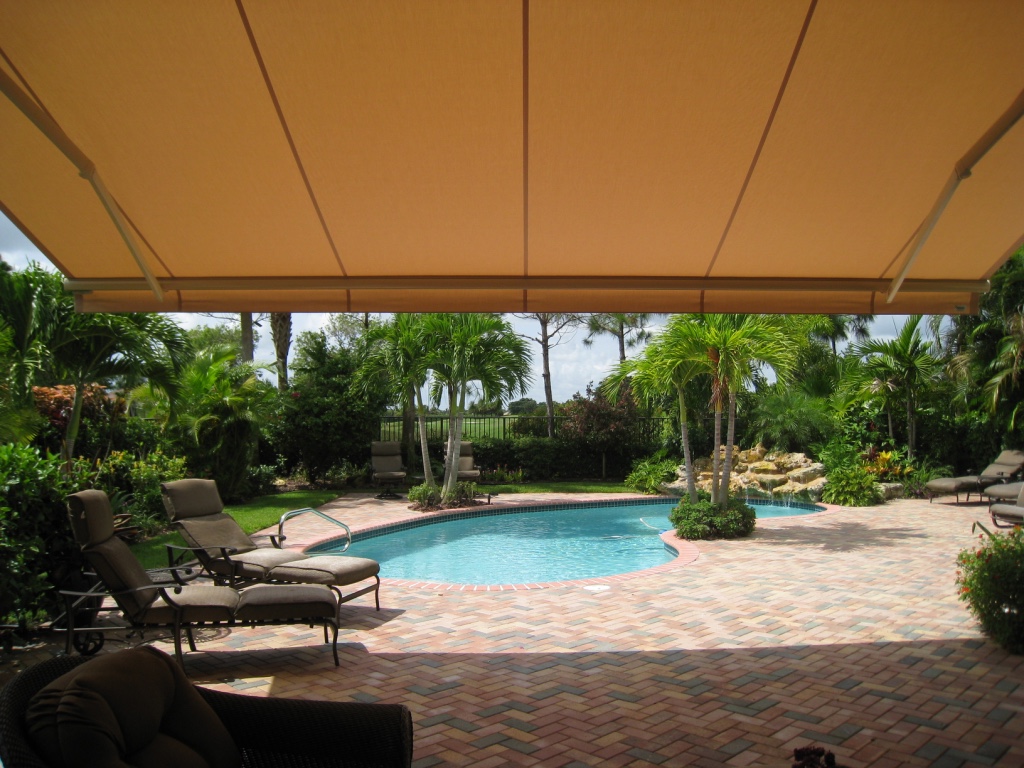 Today, we're proud to offer world-class awning materials for you to choose from for your home. These include:
Sunbrella® Awning Fabrics
An industry leader for over 50 years, Sunbrella® awning fabrics are 100% acrylic, leading to not only their beauty, but their performance as well. Recipient of the Skin Cancer Foundation's Seal of Recommendation due to its ability to filter out harmful rays from the sun, Sunbrella® fabrics offer essential protection you won't find anywhere else. High-quality and waterproof, Sunbrella® awning fabrics have truly reinvented what it means to enjoy your home to the fullest.
Sunesta Awning Fabrics
A tremendously popular option throughout Europe, Awning Stars is proud to bring Sunesta's Sattler and Tempotest awning fabrics. From block stripes to solid color patterns, both Sattler and Tempotest provide you with both classic and modern choices to pick from. Constructed with a tight weave, Sunesta products are durable and built to withstand whatever Mother Nature throws their way.
Firesist Awning Fabrics
FIRESIST® is the newest and most advanced kind of fire retardant fabric available on today's market. Delivering an unparalleled level of protection, it can withstand even the harshest weather conditions with its water-repellent capabilities as well as UV and harsh sunlight resistance.
So, Why Awning Stars?
You'll find Awning Stars standing by to help you with all your screen or awning/patio cover needs. Since 1985, we've dedicated ourselves to always putting our customers first, as our ultimate goal is your satisfaction. We won't stop till you're completely satisfied with your product! You can count on the Awning Stars team to not only provide you with an unbelievable screen system, but people you can trust. To learn more about our West Palm Beach screen systems and exterior shade products, contact us today online or give us a call at (888) 345-0033!
Resources
Area We Service