Screen Company Near Me In Delray Beach
What if there was an easy way to transform your outdoor space into a comfortable, inviting area? One that removes those pesky bugs, keeps you cool from the sweltering Florida sun, and stops harsh weather in its tracks?
The Awning Stars team is here to let you in on a secret: there is! 
Today, you can transform your home or business with your very own custom screen systems.
While you could spend hours researching "screen companies near me in Delray Beach", you'll likely come across hundreds of local businesses trying to secure your business. While you may find several screen companies, you'll find that none are able to hold themselves to the same level of quality, precision, and customer service that we have since 1985.
Born from a partnership and idea, Awning Stars has grown to be known not just for their cutting edge, high quality screen products, but for our reputation of providing each and every one of our clients with the dedication, attention, and care they deserve. We're eager to help upgrade your space—no project is too big or small! If you're searching for exterior screen systems in Delray, we have you covered.
Here at Awning Stars, we understand that your custom screen system needs may be completely different from another house. As the leading Delray Beach screen company we offer a multitude of products to cover any and all shade problems you may be facing.
Delray Beach Screen Products
Solar Screens
When you are looking for a screen company near me in Delray Beach, were eager to help you find the perfect solution so that you can keep our hot Florida sun out of your space and get back enjoying your patio as much as possible. Awning Stars solar screens has everything you need!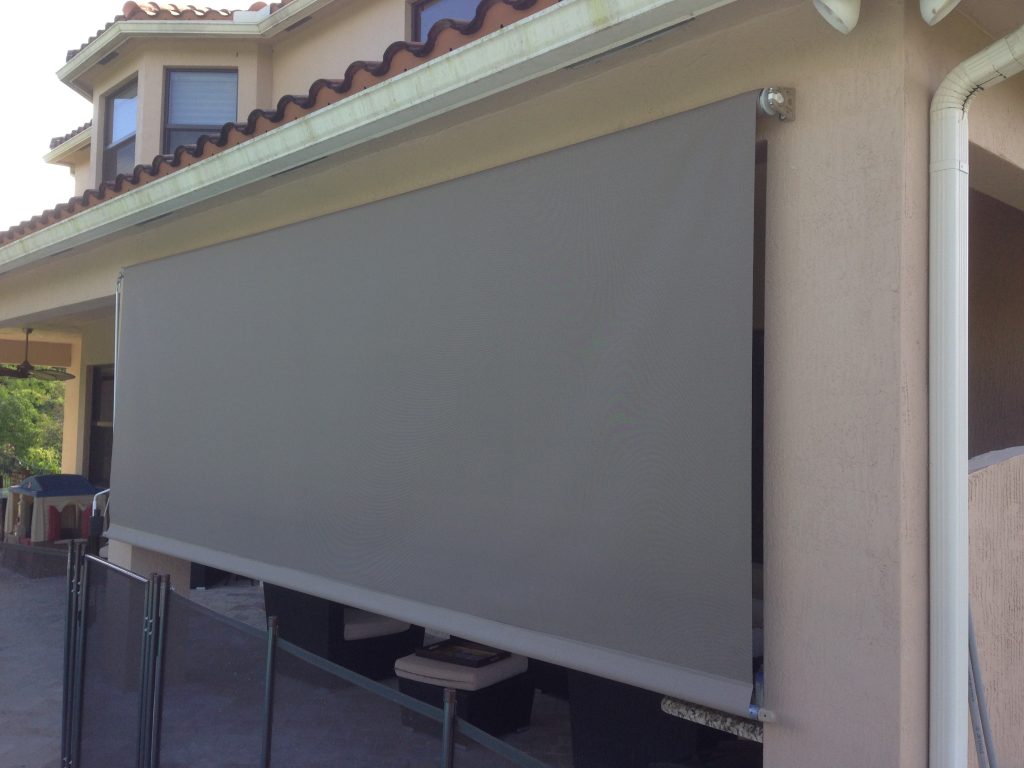 Awning Stars offers custom solar screens in Delray Beach, offering the largest possible shade coverage areas out of any other company. With widths up to 25' and drops of 16', we can match the coverage area to the system you desire. We offer the following fabric retention options to match your needs:
Freefall (no cables or tracks)
Cables
Rails
Captured Edge
Whether for your home or a large commercial space, the Awning Stars team is more than prepared to expertly install your new Delray Beach screen system. With our solar screens in your Delray Beach house or business, you'll never have to worry about:
Damaging UV rays ruining furniture
Reduced energy bill
As much natural lighting as you want/don't want
Enjoy the view without worrying about the sweltering heat
Delray Beach Insect Screens
While living in South Florida has its perks, there are certainly some downsides that come along with it—one main one being the amount of bugs! Since we're so close to the Florida Everglades, we're regularly exposed to all sorts of insects, from mosquitos to palmetto bugs. Don't spend countless hours searching for "insect screens near me in Delray Beach", and contact Awning Stars today!
Awning Stars retractable insect screens allow you to enjoy your exterior patio area without having to worry about the onslaught of every creepy crawly out there. We offer a variety of screen materials for you to choose from so you can get back to loving every inch of home without the uninvited guests.
Delray Beach Hurricane Screens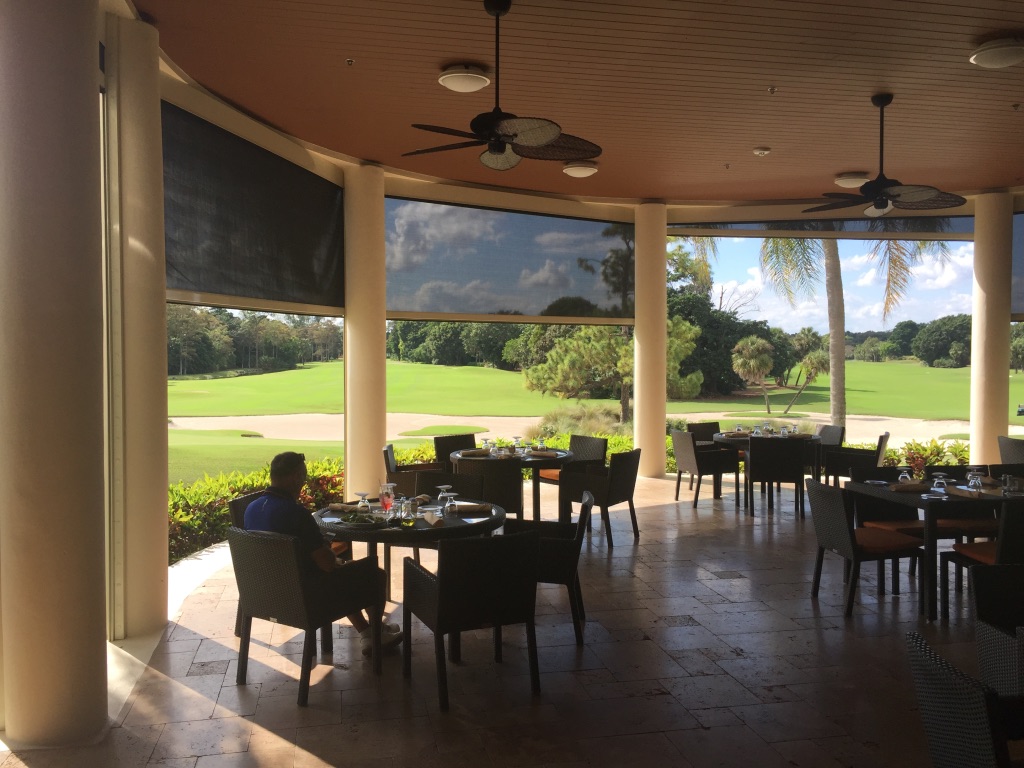 Each year, the people of Delray Beach, FL hunker down and prepare for the potential onslaught of Hurricane Season. As large storms such as tropical storms or hurricanes begin to make their way towards South Florida homeowners must ensure that they have made plans in case heavy winds cause damage throughout your home. Thankfully, you never have to rely on unsightly hurricane shutters or other traditional methods, with high-impact hurricane shutters. As the premier authorized dealer for Atlas Armor hurricane screens in Delray Beach, you have access to true storm defense like never before.
Made right here in South Florida, Atlas Armor hurricane screens are the only hurricane fabric system that are approved for hurricane protection in the High Velocity-Hurricane Zone (HVHZ), the strictest in the United States (NOA #21-0512.04 – FBC FL #38706.1). Enjoy superior hurricane protection for your doors, windows, and lanai without detracting from the overall appearance of your home.
Additional Shade Products
For your home or business, Awning Stars offers a plethora of additional shade systems and solutions. Our patio covers provide you with benefits designed to help enjoy life at its fullest while our screens can keep the sun's heat away from consuming both space in front yards as well give them some much-needed privacy when necessary!
High Quality Awning & Patio Cover Systems In Delray Beach
Awning Stars offers a range of custom sized patio covers for your home or business. From the moment you contact us, we get started understanding your requirements and designing an aesthetically pleasing solution while also taking into account available space in order ensure efficiency without compromising aesthetics! With our cover system for patios or decks—which can be easily customized according with preference—users will enjoy maximum usage potentials right from day one.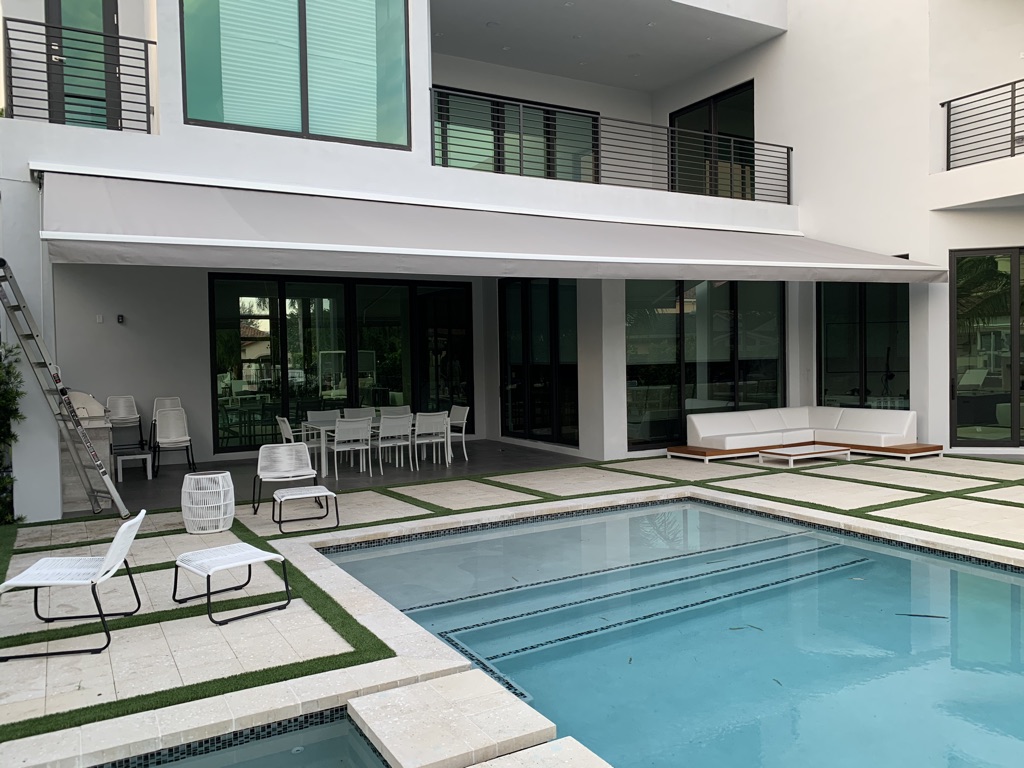 Today, we're proud to offer world-class awning materials for you to choose from for your home. These include:
Sunbrella® Awning Fabrics
An industry leader for over 50 years, Sunbrella® awning fabrics are 100% acrylic, leading to not only their beauty, but their performance as well. Recipient of the Skin Cancer Foundation's Seal of Recommendation due to its ability to filter out harmful rays from the sun, Sunbrella® fabrics offer essential protection you won't find anywhere else. High-quality and waterproof, Sunbrella® awning fabrics have truly reinvented what it means to enjoy your home to the fullest.
Sunesta Awning Fabrics
A tremendously popular option throughout Europe, Awning Stars is proud to bring Sunesta's Sattler and Tempotest awning fabrics. From block stripes to solid color patterns, both Sattler and Tempotest provide you with both classic and modern choices to pick from. Constructed with a tight weave, Sunesta products are durable and built to withstand whatever Mother Nature throws their way.
Firesist Awning Fabrics
FIRESIST® delivers a state-of-the-art combination of flame retardant performance and UV resistance that exceeds industry standards. Engineered to withstand the harshest weather conditions, FIRESIST® maximizes its water repellant capabilities and sunlight resistance.
So, Why Awning Stars?
The Awning Stars team is committed to providing the highest quality screens in Delray Beach, and a customer experience that will make your search for "the one" feel like nothing else could ever come close. Whether you contact us first time or looking to update your space—we're here with an ear ready hear what YOU want! We won't stop till its perfect.
Resources
Area We Service