Screen Company Near Me In Southwest Ranches
Living in South Florida is like living in the middle of Summer nearly all year long—so why aren't you outside enjoying it? Is it because that Florida heat has you sweating the moment you step outside, the endless amounts of bugs, or those patented South Florida showers that can last from a few minutes to days on end? Answering yes to any of these means it's time to upgrade your exterior space with an outdoor screen system!
If you've been searching for a "screen company near me in Southwest Ranches", you've likely come across several screen companies all vying for your business. While they all may claim to be the leading experts on screens, nobody has consistently provided their customers with the expertise, knowledge, and customer service that Awning Stars has since its inception. From a partnership formed in 1985, Awning Stars was built on the tenets of not only providing customers with the most advanced solutions available, but of a customer service experience that goes above and beyond for every single client we have the pleasure of working with. We pride ourselves on ensuring your satisfaction—no job is too big or too small! If you've been searching tirelessly  for custom exterior screens for your home, you've found it with Awning Stars.
Southwest Ranches Screen Products
Solar Screens
Have you been looking for a screen company near me in Southwest Ranches that will keep the hot Florida sun out of your space, so you can get back to enjoying your patio? Awning Stars has got just what you need! Our patented retractable solar screens reduce high exterior South Florida heat in your patio or lanai significantly, allowing you to actually enjoy your space without becoming drenched in sweat after a matter of seconds.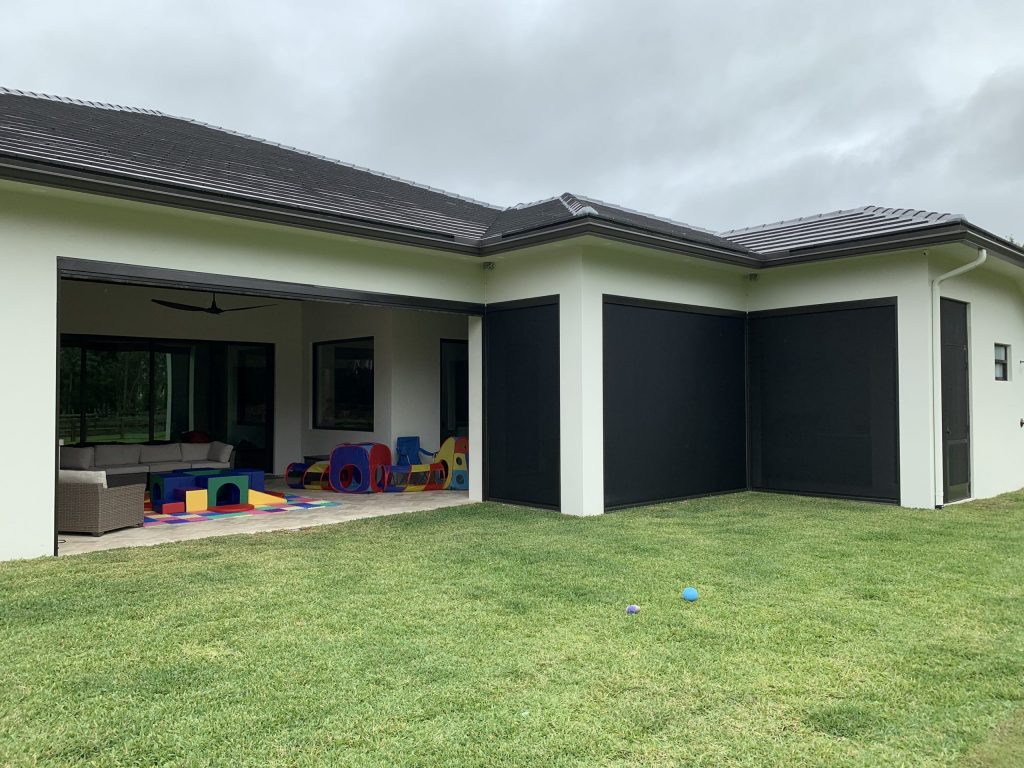 We work with each and every one of our customers to best match their taste and aesthetic so their new screens seamlessly blend in with the rest of their home. In addition, we offer the largest coverage areas of any screen company in Southwest Ranches, with widths up to 25 feet and drops of 16 feet. That way we can match the coverage area you desire. 
Today, we offer the following fabric retention options to match your needs:
Freefall (no cables or tracks)

Cables

Rails

Captured Edge
Our exterior screen installation team has the knowledge and experience necessary to flawlessly install your brand new solar screen system as quickly as possible. With your freshly installed solar screen system, you'll never have to worry about damaging UV rays destroying your furniture or higher energy bills again.
Southwest Ranches Insect Screens
Southwest Ranches citizens know all too well that while that South Florida weather is nearly perfect all year long, they also have to deal with the endless amount of bugs. The moment you step outside, you're face to face with 100s of different pests that have made your patio or lanai their home. With such close proximity to the Everglades and the Atlantic Ocean, it's no wonder we're surrounded by the likes of mosquitos, lovebugs, spiders, and palmetto bugs all the time. With Awning Stars insect screens, you're able to finally enjoy your space without "uninvited guests" doing the same!
Southwest Ranches Hurricane Screens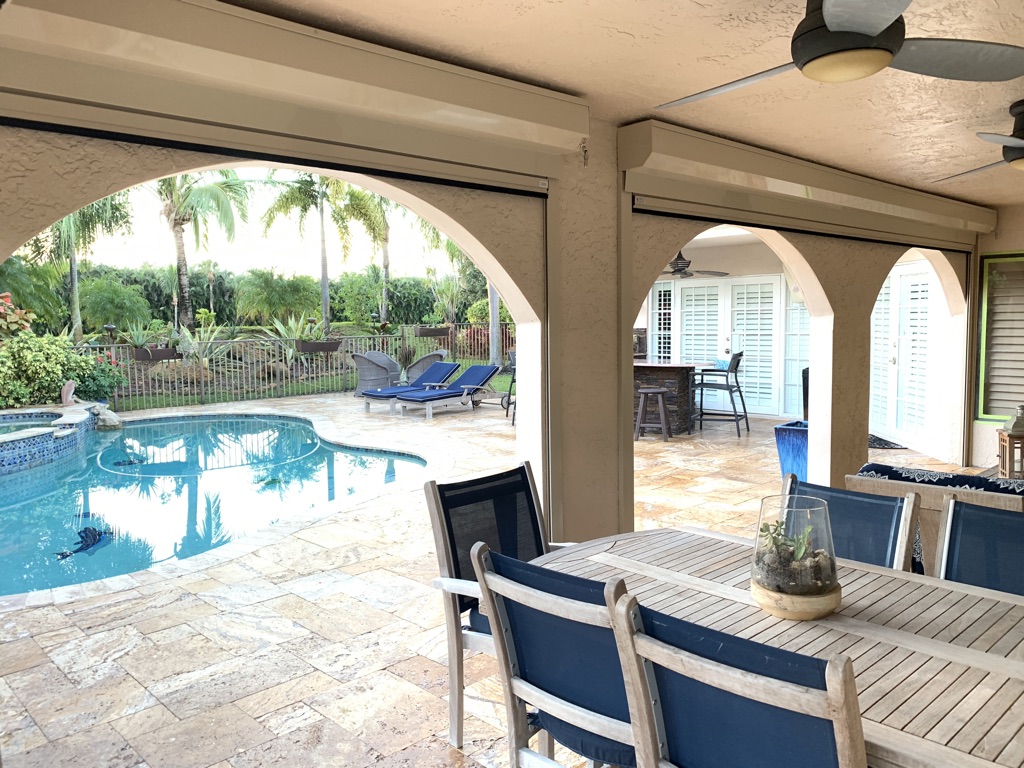 When Hurricane Season arrives, the people of Southwest Ranches hunker down and prepare for potential storms. As large storms such as tropical storms and hurricanes become stronger over time they approach South Florida with heavy winds that can throw heavy debris around, causing potential damage to your property
We know that many Southwest Ranches citizens will opt for traditional methods such as wood or aluminum panels, but we're here to offer you an alternative solution that performs far better: hurricane screens. Designed and manufactured by Atlas Armor, Awning Stars is the only authorized dealer for their high-quality hurricane screens in Southwest Ranches.
In the event of a hurricane, you can trust your home to be protected by Atlas Armor screens. These high-quality fabrics provide superior protection from wind and water damage the moment they're deployed. The only hurricane fabric approved for hurricane protection in the High Velocity-Hurricane Zone (HVHZ), the strictest in the United States (NOA #21-0512.04 – FBC FL #38706.1), you can enjoy superior home defense against major storms at the click of a button. 
Additional Shade Products
Why not let Awning Stars help you enjoy your home? We offer a variety of coverage solutions to ensure that every need is met. From patio covers and shading systems, we can provide all the protection needed from the sun here in Southwest Ranches!
High Quality Awning & Patio Cover Systems In Southwest Ranches
Our company specializes in custom awnings for your home. When you contact us, we take the time to understand what you're looking for and how we can best fulfill your shading needs. From your first consultation to the moment they're installed, we'll work right alongside you to ensure we provide you with exactly what you're searching for.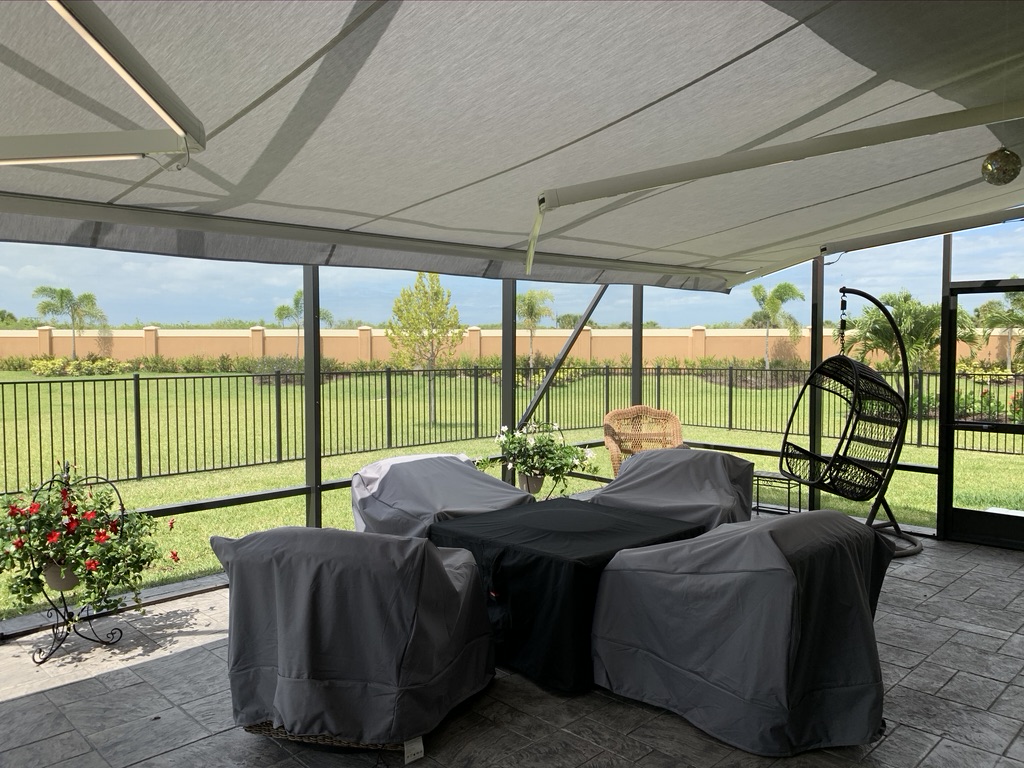 Today, we're proud to offer world-class awning materials for you to choose from for your Southwest Ranches home. These include:
Sunbrella® Awning Fabrics
Sunbrella awning fabrics are 100% acrylic, which means they have the ability to block out harmful rays and offer essential protection you won't find anywhere else. Recipient of The Skin Cancer Foundation's Seal of Recommendation due to its ability to filter out harsh UV rays from your patio or lanai. You can count on Sunbrella to keep you cool no matter how hot it may be outside.
Sunesta Awning Fabrics
Sunesta offers a variety of fabric options to suit your unique needs. Whether you're looking for classic, modern or ultra-modern designs – they've got it all! With Sunestas' tightly woven fabrics constructed with high quality materials that are durable enough withstand even Mother Nature's toughest conditions these products will be sure to not only last but also impress year after year. 
Firesist Awning Fabrics
The FIRESIST® is the perfect choice for any outdoor space. It can withstand harsh weather conditions and has been proven to repel water, maximizing its durability in your backyard or patio!
So, Why Awning Stars?
When you contact us, we get to work understanding what's important and how best we can help. With extensive experience installing quality exterior screens and patio covers, we know what it takes to get you covered—literally! If you're tired of searching endlessly for a screen company in Southwest Ranches, then look no further than Awning Stars. 
You can count on the Awning Stars team to not only provide you with an unbelievable screen system, but people you can trust. To learn more about our Southwest Ranches screen systems and exterior shade products, contact us today online or give us a call at (888) 345-0033!
Resources
Area We Service