Screen Company Near Me In Palm Beach Gardens
Searching online for "screen companies near me in Palm Beach Gardens" will provide you with a multitude of screen companies all claiming to be the best. However make no mistake: no Palm Beach Gardens screen company can provide the level of high-quality screen products coupled with the level of customer service you'll find here at Awning Stars.
For nearly 40 years, Awning Stars has built its reputation in Palm Beach Gardens and the surrounding areas as the screen company that cares. We work closely with every homeowner and business owner to understand exactly what they're looking for so we can walk them through each and every step. With screen and shade products from solar screens, hurricane screens, and patio covers/awnings, we have you covered—literally!
If you're searching for stunning screen systems in Palm Beach Gardens, the Awning Stars team is ready to get to work.
Palm Beach Gardens Screen Products
Solar Screens
Awning Stars solar screens are designed to keep the suns harsh UV rays and unbearable heat out, so you can get back to enjoying your patio or lanai to the fullest! As the leading screen company in Palm Beach Gardens, our patented solar screens provide you with a wealth of benefits all designed to enhance your experience despite the beating Florida sun. These include, but are not limited to:
Largest screens available in Palm Beach Gardens

Widths up to 25′
Drops up to 16′

Damaging UV rays ruining furniture
Reduced energy bill
As much natural lighting as you want/don't want
Enjoy the view without worrying about the sweltering heat
Our solar screens come in a variety of colors and materials to provide you with a wealth of choices to fit your aesthetic preferences. In addition, we offer several different fabric retention systems to match your preference and budget. These include:
Freefall (no cables or tracks)
Cables
Rails
Captured Edge
Palm Beach Gardens Insect Screens
Bug protection is a necessity for those who live in South Florida. Palm Beach Gardens bugs can be relentless, finding every possible avenue into your space and forcing you inside. With such close proximity to the Florida Everglades, coupled with Florida's temperate climate, makes for a perfect environment for insects and other critters to find their way towards your home or business. Thankfully, Awning Stars insect screens are here to provide you with the defense needed to stop them in their tracks!
Out of all the things that could keep you from enjoying your outdoor space, bugs are probably at the top. With Awning Stars' insect screens for retractable awnings and curtains, however – which come in various materials—you can get back to relaxing outdoors without having to deal with pesky mosquitos or love-bug infestation!
Palm Beach Gardens Hurricane Screens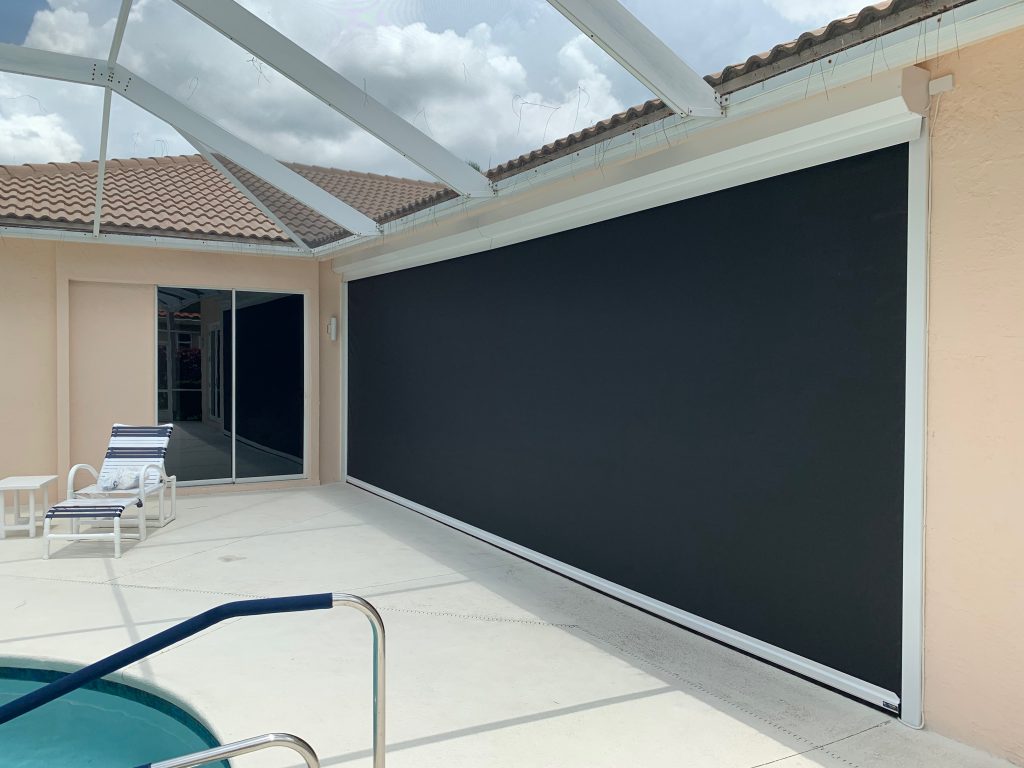 If you've lived in Palm Beach Gardens for a few weeks or several years, you're likely familiar with the prospect of Hurricane Season each and every year. With a deep history of hurricanes passing over South Florida, citizens all across are all too familiar with having to defend their homes with any from wood panels, aluminum shutters, or costly impact windows. Thankfully, you're able to protect your home from hurricane force winds and torrential downpours with our hurricane screens.
Today, Awning Stars is the premier authorized dealer of Atlas Armor hurricane screens in Palm Beach Gardens and the surrounding areas! The only hurricane fabric system approved for hurricane protection in the High Velocity-Hurricane Zone (see below). Hurricane protection doesn't have to compromise the look of your home, as Atlas Armor hurricane screens come in a variety of colors and materials!
Additional Shade Products
When you're looking for awnings and shades to protect your home from the sun, Awning Stars has what you need. We offer an array of options in Palm Beach Gardens that will suit any need!
High Quality Awning & Patio Cover Systems In Palm Beach Gardens
When you're looking for a custom awning system that will add both beauty and value to your home, Awning Stars is the only choice. From our first contact all through installation of any size or style we work tirelessly until every detail has been considered in order make sure everything meets YOUR needs!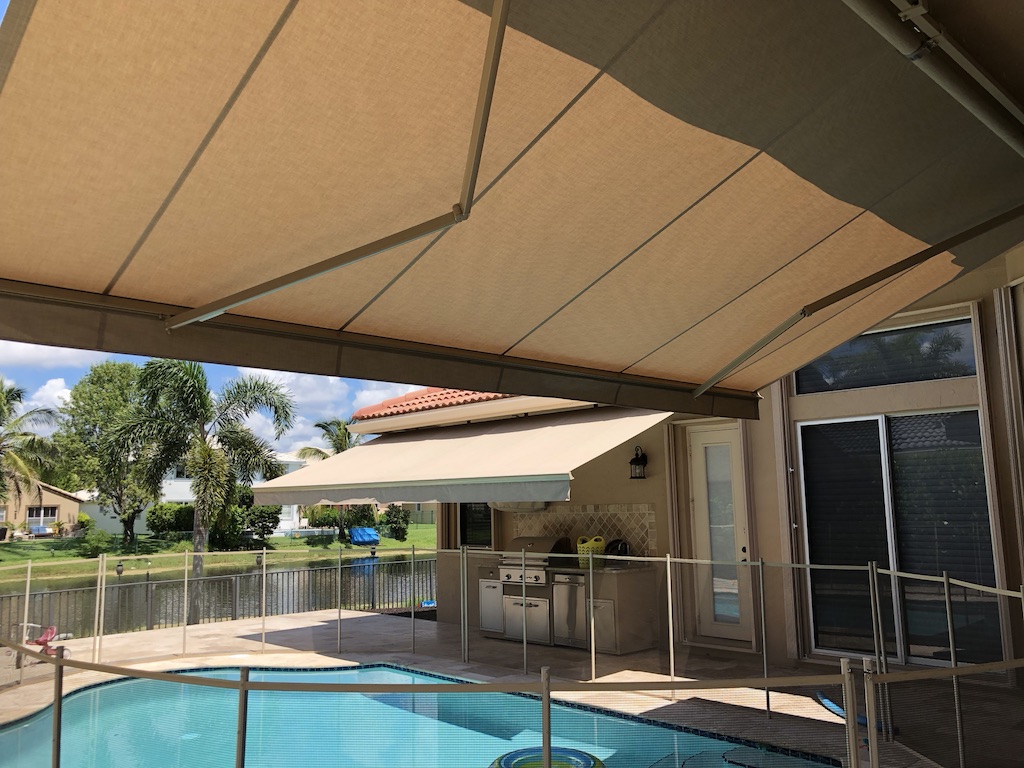 Today, we're proud to offer world-class awning materials for you to choose from for your home. These include:
Sunbrella® Awning Fabrics
Sunbrella® awning fabrics are 100% acrylic, which makes them not only beautiful but also durable. They have been awarded the Skin Cancer Foundation's Seal of Recommendation due to their ability in filtering out harmful rays from the sun. An industry leader for over 50 years, Sunbrella® has been a pioneer in high quality stunning awning fabrics.
Sunesta Awning Fabrics
Sunesta's Sattler and Tempotest awnings are tremendously popular throughout Europe. With block stripes, solid color patterns or other designs available depending on your taste in design – they provide you with both classic looks to modern choices that will fit any home perfectly! The tight weave construction ensures these products stand up well against Mother Nature's challenges while still looking beautiful after years of use.
Firesist Awning Fabrics
FIRESIST® is an innovative combination of flame retardant performance and UV resistance that delivers unparalleled standards in the industry. Engineered to withstand harsh weather conditions, FIRESIST ® maximizes its water repellency while also maximizing sunlight resistance for ultimate durable protection against the elements.
So, Why Awning Stars?
From the moment you contact us, we get to work understanding what your needs are and how best can help. We take pride in being Palm Beach Gardens's top choice for exterior screen systems and shade products! Have a question about one of our screens or awnings? No problem! Simply contact us online or give us a call at (888) 345-0033.
Resources
Area We Service