Screen Company Near Me In Hollywood
Your home's outdoor space is a beautiful, practically unused area that's waiting for you to make the most of it. Homeowners become wary of enjoying their home's backyard, patio, or lanai due to the constant threat of high Florida heat, strong storms, and Florida's collection of pests and insects. Thankfully, you don't have to worry about any of these when stepping outside any longer with a new motorized screen system installed in your Hollywood home!
When searching for a "screen company near me in Hollywood" you'll be faced with 100s of companies all vying for your attention. Make no mistake though: while other screen companies in Hollywood may claim to be the best or offer the highest-quality screen products, none are able to compare with Awning Stars. Since 1985, the Awning Stars team has dedicated itself to providing homeowners in Hollywood with not only the most advanced screen and shade solutions available, but with a customer service experience that can't be matched by anyone else in the industry. We've spent countless years working towards ensuring that each and every customer is 110% satisfied with their new screens—and we're eager to help you achieve that same feeling.
We understand that each and every customer has their own list of styles, preferences, and tastes, which is why we take the time to understand your requirements, wants, and expectations. That way, we can ensure a flawless installation and leave you completely satisfied.
Hollywood Screen Products
Searching for high quality screen solutions in Hollywood, Florida? Look no further than Awning Stars. We understand that every home has different needs, which is why we're proud to offer our solar screens, hurricane screens, and insect screens!
Solar Screens
South Florida's hot summer sun can be a pain to deal with, especially if you have an outdoor space that needs protecting. Awning Stars has the perfect solution for your needs! Our patented retractable solar screens in Hollywood allows us to reduce high exterior South Florida heat from entering your home's patio or lanai. That way, you, your family, and your friends can get back out there enjoying your backyard without sweating the moment you step foot outside.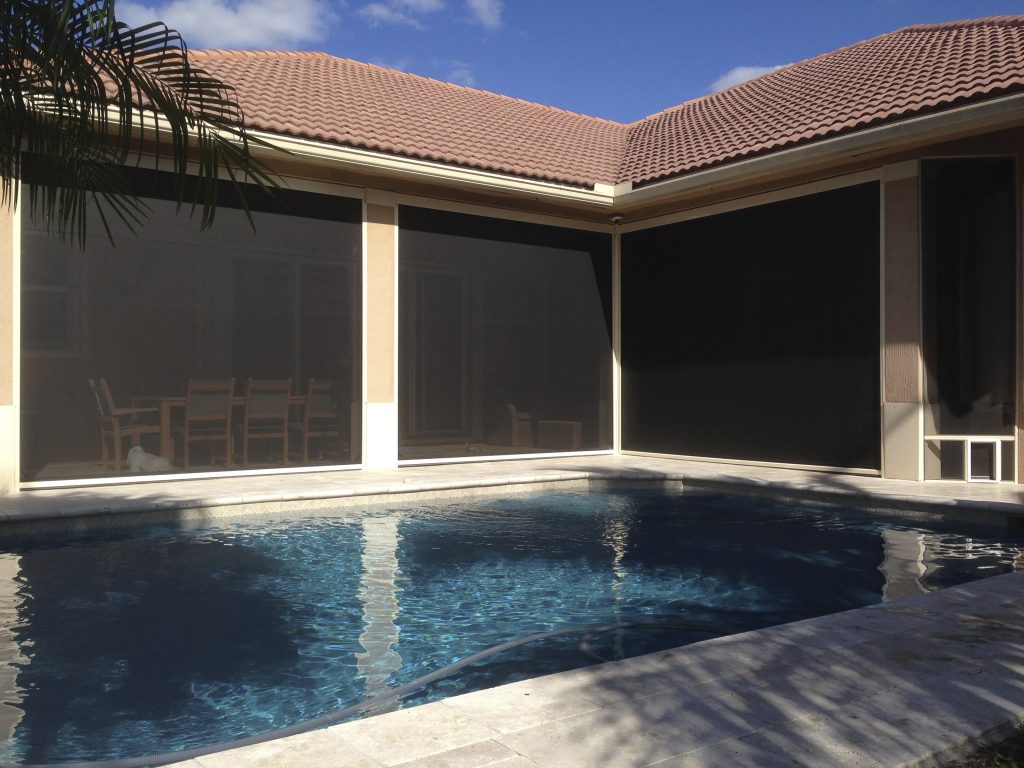 Does your home's exterior space require a large screen to cover your space properly? No problem! Our custom motorized screen systems are capable of covering widths up to 25 feet and drops of 16 feet—larger than any other screen company in Hollywood! We offer the following screen systems for your home to best match your needs:
Freefall (no cables or tracks)
Cables
Rails
Captured Edge
Homeowners and business owners alike can enjoy the peace of mind that comes with our Hollywood screen systems. With Awning Stars high-quality solar screens installed in your home, you'll never worry about:
Whether for your home or a large commercial space, the Awning Stars team is more than prepared to expertly install your new Hollywood screen system. With our solar screens in your Hollywood house or business, you'll never have to worry about:
Damaging UV rays ruining furniture
High energy bills
Excessive natural lighting
High heat in your patio/lanai
Hollywood Insect Screens
Grossed out by the waves of Florida pests such as mosquitos and palmetto bugs? Us too, that's why we're proud to offer our insect screens in Hollywood! The Everglades and Atlantic Ocean are a breeding ground for a multitude of insects and other creepy crawlies, all of which seem to make their way to our patios. That becomes a thing of the past with our insect screens installed, though.
If you've been dreaming of enjoying your home's exterior space but can't seem to get away from the bugs, then our insect screen is right for you. Watch as the usual suspects are stopped in their tracks, allowing you to actually enjoy your home's patio or lanai without walking away with hundreds of mosquito bites.
Hollywood Hurricane Screens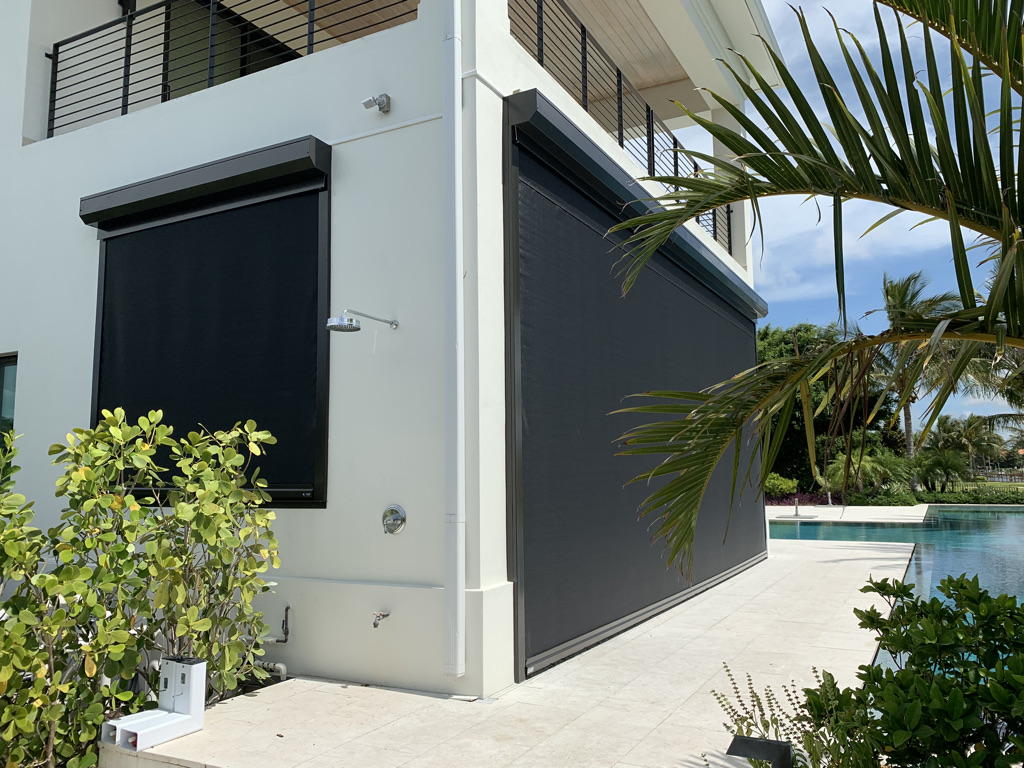 The citizens of Hollywood must prepare for the potential onslaught of Hurricane Season. As large storms such as tropical storms and hurricanes begin to make their way towards South Florida, homeowners will be required to take necessary measures in order to defend against heavy winds, torrential downpours, and large amounts of pressure that may come along with these types of storms.
The Awning Stars team is here to tell you that there are other options beyond wood and aluminum panels, such as accordion shutters. Today, Awning Stars is proud to be the authorized dealers of Atlas Armor hurricane screens in Hollywood—the only hurricane screen approved for hurricane defense in the High-Velocity Hurricane Zone, or HVHZ. Atlas Armor hurricane screens in Hollywood have surpassed the strictest building codes in the U.S. (NOA #21-0512.04 – FBC FL #38706.1), so you can rest assured knowing your home is well defended no matter how strong the storm may be. If you're searching for hurricane defense you can trust at the click of a button, then look no further than Awning Stars hurricane screen solutions!
Additional Shade Products
Your home is a place where you should feel comfortable and safe. With our Hollywood screen options, Awning Stars offers an impressive array of additional shade systems for your outdoor living area that will not only protect it from harsh weather but also add beauty to the landscape while doing so!
High Quality Awning & Patio Cover Systems In Hollywood
The Awning Stars team is committed to providing you with an awning system that not only meets your needs but provides years of service. From our first consultation, we work hard in understanding what you're looking for so we can best match our solutions.
With an Awning Stars patio cover system, you can enjoy the outdoors without succumbing to intense heat or being forced inside due rain. With a multitude of fabric materials and colors at your disposal we'll help maximize space in any home by finding just what you need!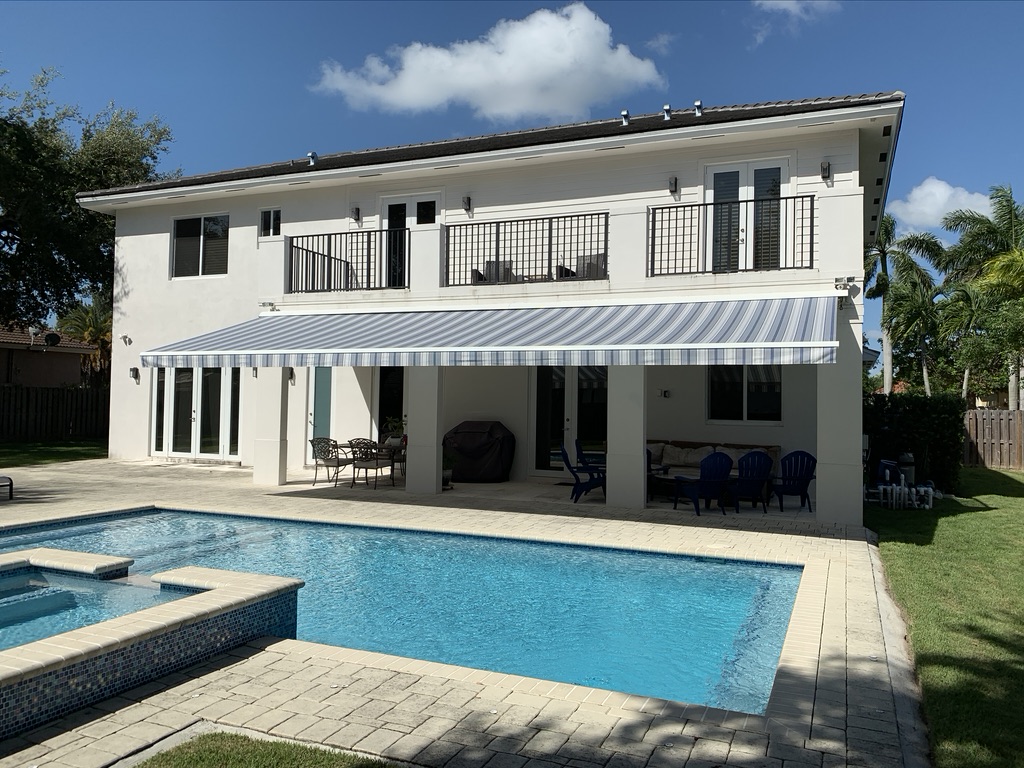 Today, we're proud to offer world-class awning materials for you to choose from for your home. These include:
Sunbrella® Awning Fabrics
Sunbrella® awning fabrics are 100% acrylic, which means that they block out harmful rays and offer essential protection you won't find anywhere else. The Skin Cancer Foundation has given its seal of recommendation due to Sunbrellas® ability to filter out UV light; it's no wonder why this fabric is so popular with consumers!
Sunesta Awning Fabrics
Sunesta's Sattler and Tempotest awnings provide you with the perfect choice for any setting. From block stripes to solid color patterns, there is an option just right for everyone! These products are built tough enough that no matter what Mother Nature throws their way they will stand up strong, making them an ideal choice for homeowners in Hollywood looking for a quality patio cover system.
Firesist Awning Fabrics
FIRESIST® has been engineered to exceed industry standards for the toughest conditions. The special formulation delivers a superior combination of flame retardant performance and UV resistance that protects your building from fire, while ensuring it withstands harsh weather like nothing else can!
So, Why Awning Stars?
The Awning Stars team has been dedicated to providing customers with the highest quality screens in Hollywood for over 30 years. From our first contact, we work hard at understanding your needs and making sure that you're satisfied every step of way. We're proud to offer a high quality customer experience you won't find anywhere else. You can count on the Awning Stars team to not only provide you with an unbelievable screen system, but a team you can count on. To learn more about our Hollywood screen systems and exterior shade products, contact us today online or give us a call at (888) 345-0033!
Resources
Area We Service