Screen Company Near Me In Jupiter Island
It's happened to all of us: you're ready to use your patio and enjoy it with friends and family, only to face the onslaught of that South Florida sun, endless bugs, or a torrential downpour. You deserve a solution that's capable of shutting them out so you can enjoy your space to the absolute fullest—that's where Awning Stars steps in.
You've likely already searched for a "screen company near me in Jupiter Island" and come across several companies that are all vying for your business. While they may all say they offer the best exterior screens or motorized screen services in Jupiter Island, none can compare to the customer service, options, and execution provided by Awning Stars.
Born from a partnership in 1985, we here at Awning Stars have dedicated ourselves to offering homeowners in Jupiter Island the highest quality solar screens, insect screens, and hurricane screen solutions available.
No project is too big or small for Awning Stars—we love them all! We're eager to help you achieve your dream of enjoying your patio or lanai to the absolute fullest, which is why we'll take the time to provide you with a fair, realistic estimate, and what your options are based on the issues you may be running into. If you're ready to elevate your exterior space, Awning Stars is ready to make it happen.
Jupiter Island Screen Products
When searching for a "screen company near me in Jupiter Island", you actually have several options available at your disposal. When it comes to motorized screen systems, there's Jupiter Island solar screens, Jupiter Island insect screens, and Jupiter Island hurricane screens. While somewhat similar in their design, they all serve a unique purpose to help you enjoy your patio or lanai each and every day.
Jupiter Island Solar Screens
Have you been dying to enjoy your backyard's patio, but can't bear the intense Florida heat all year long? Enter Awning stars Jupiter Island solar screens. Our retractable solar screens significantly reduce the temperature in your patio or lanai while in use—all while perfectly mirroring the aesthetic of the rest of your home's exterior!
When searching for a "screen company near me in Jupiter Island", were you eager for a solution that would keep the hot Florida sun out of your space, so you could get back to enjoying your patio to the fullest? Awning Stars has you covered! Our patented retractable solar screen screens aptly reduce high exterior South Florida heat from entering your home, business, or patio, all while effortlessly matching your space's aesthetic.
Our custom solar screens in Jupiter Island are made to fit your space perfectly. We offer widths up to 25 feet and drops of 16 feet, ensuring we can flawlessly cover your space. Awning Stars also offers several fabric retention systems to better suit your needs. These include, but are not limited to:
Freefall (no cables or tracks)
Cables
Rails
Captured Edge
While primarily installed to cool your patio, our Jupiter Island solar screens actually provide you with several ancillary benefits, such as:
Defense against UV rays ruining furniture
Reduced energy bill
Allow as much natural lighting in as you'd like
If you've been searching for the highest quality solar screens in Jupiter Island, look no further than Awning Stars.
Jupiter Island Insect Screens
Jupiter Island's climate is perfect for outdoor lovers – but not so much if you're looking to avoid bugs! With close proximity to areas such as the Florida Everglades and the Atlantic Ocean, it's no surprise we can't take a step outside without coming into contact with all sorts of creepy crawlers on your own patio. From flying love bugs to palmetto bugs skittering around, it can make it impossible to enjoy your backyard space. Thankfully, Awning Stars is here to fulfill your "insect screens near me" needs today!
Our motorized insect screens can be quickly and easily deployed to stop insects right in their tracks so you and your family can still enjoy your home's patio or lanai without having to suffer 100s of mosquito bites in the process.
Jupiter Island Hurricane Screens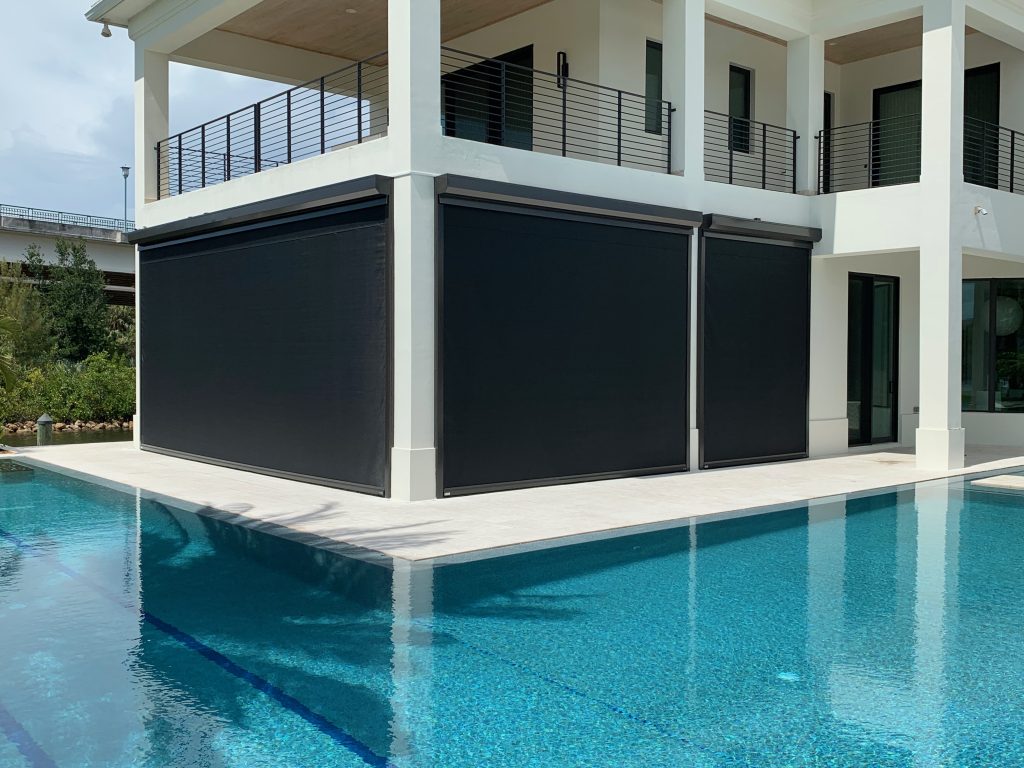 Jupiter Island Hurricane Screens
Hurricane season is a threat to the safety and well-being of all residents in Jupiter Island. From June until November, it becomes essential that homeowners prepare themselves by taking measures such as boarding up windows against strong winds or installing hurricane shutters before storms approach their homes with high speeds. These methods are extremely exhausting and time consuming, requiring setup every single time. What if you could defend your home at the click of a button? That's now possible with Awning Stars hurricane screens! We are the proud authorized dealer of Atlas Armor hurricane screens in Jupiter Island, providing unequivocal home defense against heavy storms.
Tropical storms and hurricanes bring heavy amounts of rain, winds, and pressure, all of which can significantly damage your home if left undefended. Our hurricane screens provide Jupiter Island residents a new way of protecting their home. The only hurricane fabric system approved for hurricane protection in the High-Velocity Hurricane Zone, Atlas Armors hurricane screens can and will defend your home against the toughest of storms. Our hurricane screens can be combined with any of our other Jupiter Island screen options to offer your home the most flexible motorized screen solutions possible.
Additional Shade Products
Here at Awning Stars, we're proud to offer you the most flexible shade solutions for your Jupiter Island home. Our awnings and patio covers are here to help you enjoy your home, no matter the occasion. With options for every need from large commercial businesses all the way down to individual homeowners looking at purchasing their first cover we have something that will fit any budget!
A variety of colors available as well so match it with whatever style or design accents may be found on site right now – Awning Stars has got this covered.
High Quality Awning & Patio Cover Systems In Jupiter Island
Awnings are a great way to provide some shelter and style when you're out walking or hosting an event at your home. Our custom patio covers maximize the available exterior space of your home, giving you the opportunity to truly enjoy your home without having to suffer under the brutal sun, or have to run inside because of a drizzle.
Here at Awning Stars, we're proud to offer you a multitude of fabric and color options to best match your taste and preferences. Our team will work with you to better understand your wants and needs so we can best match the perfect awning to your home.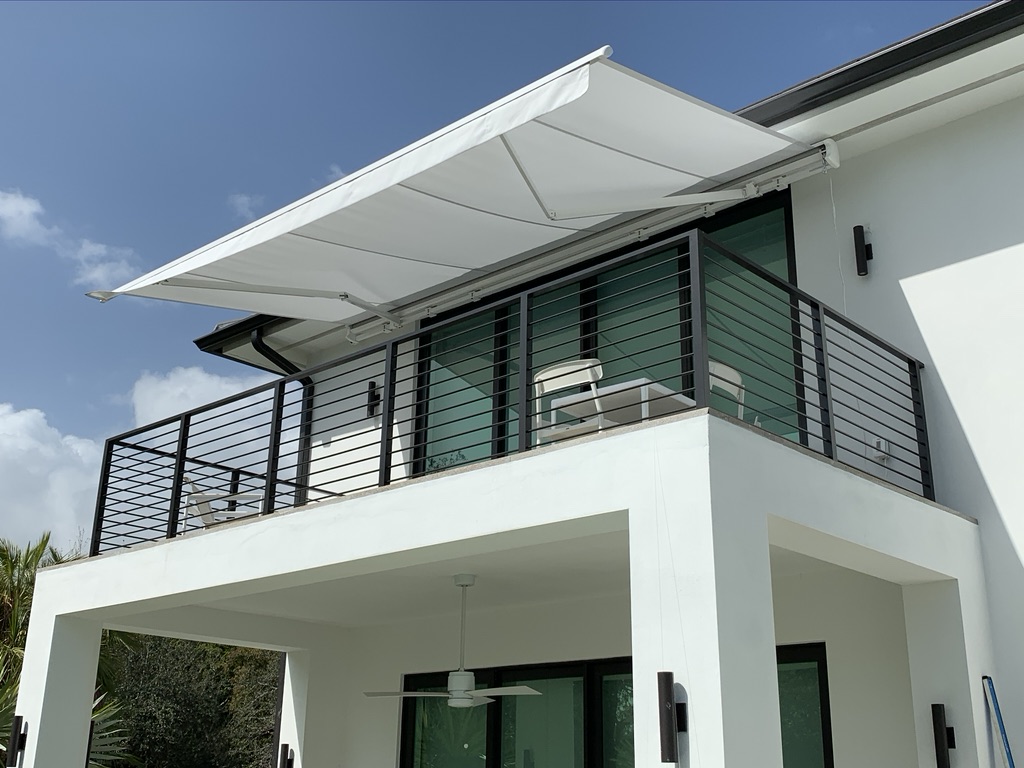 Awning Stars offers the following amazing awning materials for you to choose for your Jupiter island home:
Sunbrella® Awning Fabrics
For well over 50 years, Sunbrella® awning fabrics have afforded homeowners and businesses the ability to enjoy truly stunning awning solutions that are sure to last a lifetime. Made of 100% acrylic, Sunbrella® awning fabrics have been awarded the Skin Cancer Foundation's Seal of Recommendation, due to its high performance against harmful UV rays from the sun. Sunbrella® fabrics are waterproof, ensuring everyone stays dry even during the heaviest showers.
Sunesta Awning Fabrics
Sunesta's Sattler and Tempotest awnings provide you with the perfect mix of classic, modern designs to choose from. With block stripes or solid color patterns available in both styles – there is an option for everyone! The tight weave construction will ensure durability against Mother Nature's latest surprises so your home can stay beautiful no matter what she throws at your home.
Firesist Awning Fabrics
FIRESIST® not only delivers a state-of the art combination of flame retardant performance and UV resistance, but it also surpasses industry standards. Engineered to withstand harsh weather conditions; this material maximizes its water repellency as well sunlight avoidance abilities for maximum durability, lasting years to come!
So, Why Awning Stars?
If you're tired of searching endlessly for a screen company near me in Jupiter Island you can trust, look no further than Awning Stars. We believe in a strong customer experience, which is why we will do everything in our power to ensure you are completely and utterly satisfied with your new patio screens or patio covers. You can rest assured knowing Awning Stars has your back. Interested in a free quote for your Jupiter Island home? Contact us today online or give us a call at (888) 345-0033!
Resources
Area We Service