Screen Company Near Me In Fort Lauderdale
Are you dying to enjoy your patio or lanai, but just can't because of the blistering heat, pouring rain, or unending bugs? Ready to finally upgrade your exterior space once and for all? Then you need a Fort Lauderdale screen company!
Jumping onto the internet and searching for a "Screen company near me in Fort Lauderdale" will likely turn up hundreds of companies all vying for your business. They may say they can provide you with the best screen systems available, we're here to let you in on a little secret:
They can't!
While other awning and screen companies may talk the talk, they can't walk the walk like Awning Stars can. Since 1985, we've been the leading provider and installer of high quality custom screens and awning products, all while providing them with the level of customer service they deserve from start to finish. Whether you're looking for solar screens, hurricane screens, patio covers, patio awnings, umbrellas, or something else, Awning Stars has you covered!
We know that every project is different, and that's okay! We're eager to get to work on your Fort Lauderdale custom screens or awnings project. From residential lanais to commercial spaces, we can do it all. If you have a shade problem, we can solve it.
Fort Lauderdale Screen Products
Solar Screens
If you've been searching for a "screen company near me in Fort Lauderdale", you've found it in Awning Stars. We specialize in installing a myraid of screen products, including solar screens. Designed to keep the heat out, you're able to enjoy your exterior space without succumbing to unbearable Florida sun after just 10-15 minutes.
With the largest coverage areas available, we're able to provide you with custom screens with widths up to 25 feet and drops of 16 feet. We can match the aesthetic of your home with a multitude of fabric options, as well as fabric retention systems to fit your needs and budget:
Freefall (no cables or tracks)
Cables
Rails
Captured Edge
With Awning Stars Fort Lauderdale solar screens in your home or business, you'll enjoy a multitude of benefits that only enhance your experience. These include, but are not limited to:
Damaging UV rays ruining furniture
Reduced energy bill
As much natural lighting as you want/don't want
Enjoy the view without worrying about the sweltering heat
Fort Lauderdale Insect Screens
While Fort Lauderdale citizens get to enjoy Florida's year long great weather, they also have to deal with the year-long onslaught of insects and other intruders from making their way into your home. With plenty of invasive insects making their way from the Everglades into our homes, it's not wonder homeowners and businessowners don't want to venture outside their homes! Thankfully, you're not alone. Awning Stars insect screens stop pesky bugs right in their tracks, allowing you to enjoy your space to the fullest without fear of mosquitos, cockroaches, and more making their way into your home. Trust in us to be the last "insect screens near me in Fort Lauderdale" search you ever make!
Fort Lauderdale Hurricane Screens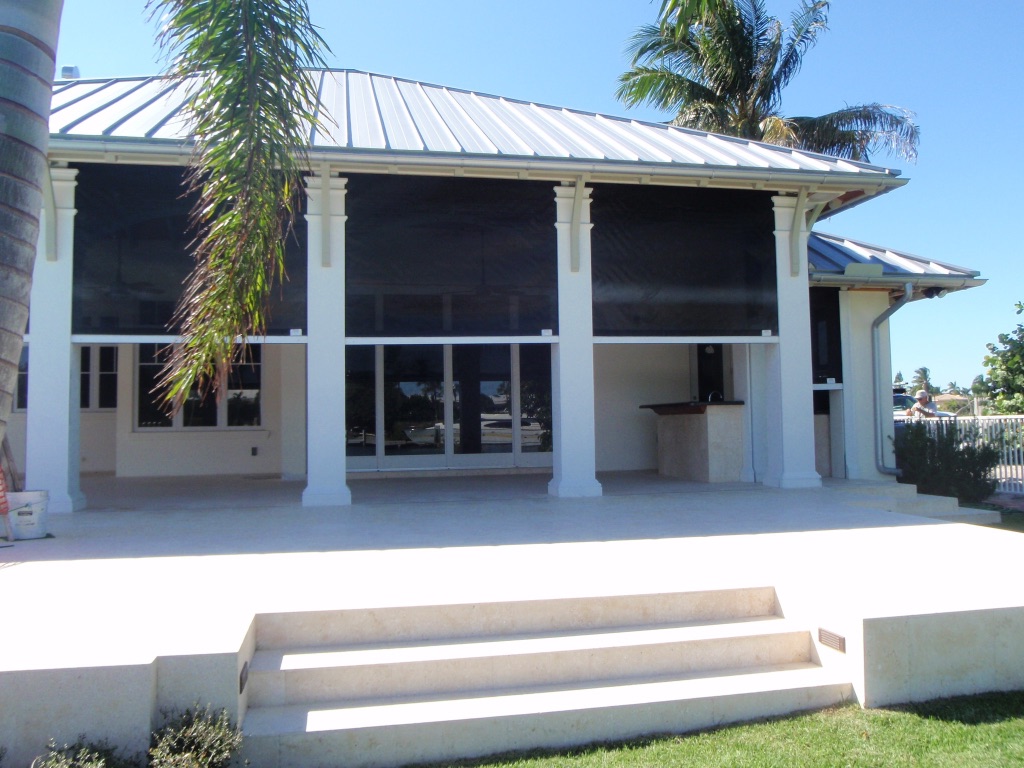 No matter if you've lived in Fort Lauderdale your entire life or just moved here recently, you're all too familiar with Hurricane Season. Ranging from the the modest tropical depression to the devastating category 5 hurricane, homeowners and business owners must be on high alert every year from June 1st to November 30th. These slow, hulking storms, are unpredictable in their pathing, which is why you should prepare your defenses well in advance. Citizens of Fort Lauderdale have always had to rely on traditional defense solutions such as wood or aluminum panels, or accordion shutters. However, you're not tied in to these options any longer, thanks to Awning Stars! As the premier authorized dealer for Atlas Armor hurricane screens in Fort Lauderdale, you can experience true storm defense unlike anything else. The only hurricane fabric system to be approved for the High Velocity-Hurricane Zone, it passes the strictest building codes in the United States (NOA #21-0512.04 – FBC FL #38706.1).
If you've been searching for the highest quality hurricane protection, look no further than Atlas Armor hurricane screens provided by Awning Stars.
Additional Shade Products
Are you looking for a way to increase your property's curb appeal and enjoy the outdoors more? Our awnings and patio cover products provide all of this, plus they help protect your home from harsh weather conditions like rain or sun damage. We have multiple options available—find out how great it would be with our selection today!
High Quality Awning & Patio Cover Systems In Fort Lauderdale
Awning Stars offers high-quality custom awnings for your home in Fort Lauderdale. From the moment you contact us, we work hard to understand all of our clients' needs and map out spaces so they can get products that not only look great but last years too!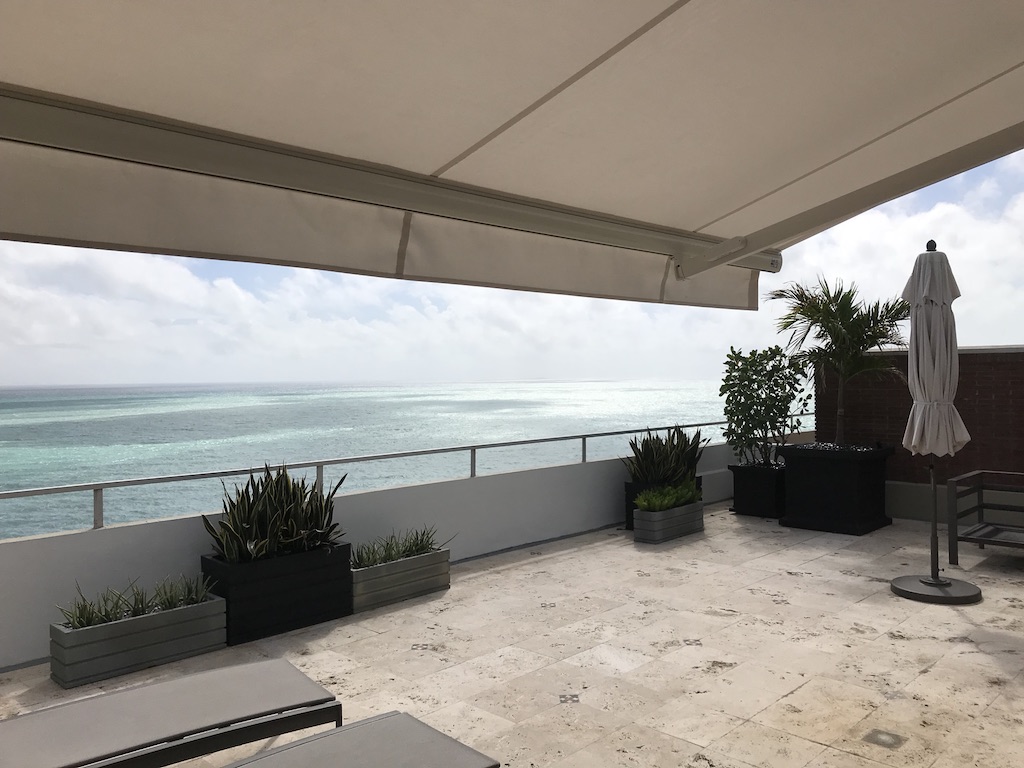 Today, we're proud to offer world-class awning materials for you to choose from for your home. These include:
Sunbrella® Awning Fabrics
For over 50 years, Sunbrella® awning fabrics have been providing the protection and beauty that you won't find anywhere else. Not only are they 100% acrylic but also award winning for their ability to filter out harmful UV rays. In addition, Sunbrella® awnings comes in a multitude of different color options to match your aesthetic preferences, which you can find here!
Sunesta Awning Fabrics
Sunesta's Sattler and Tempotest awning fabrics are available in an array of classic or modern patterns to suit any taste. The tight weave construction means these products will last no matter what Mother Nature dishes out, while also providing you with stylish options for your home! Interested in learning more about these highly popular awning options for your home? Learn more here!
Firesist Awning Fabrics
FIRESIST® offers a superior combination of flame retardant performance and UV resistance that is unparalleled in the industry. Engineered to withstand harsh weather conditions, FIRESIST® maximizes its water repellency while also maximizing sunlight resistance for ultimate durability. FIRESIST® comes in several different color palettes highlight various patterns which you can view here.
So, Why Awning Stars?
The team at Awning Stars has been providing customers in Fort Lauderdale with the highest quality products and service since 1985. We take pride not only our ability to meet your needs, but also by understanding what you are looking for so that we can provide it without fail. We will go above and beyond for our clients if that means providing them with a screen solution that exceeds their expectation. Here, your satisfaction is our number one priority, which is why you can count on us to be the last "screen company near me in Fort Lauderdale" search you ever make. To learn more about our screen systems and exterior shade products, simply contact us today online or give us a call at (888) 345-0033!
Resources
Area We Service